Review, photos, videos: Adele masterful, whimsical in return to Bay Area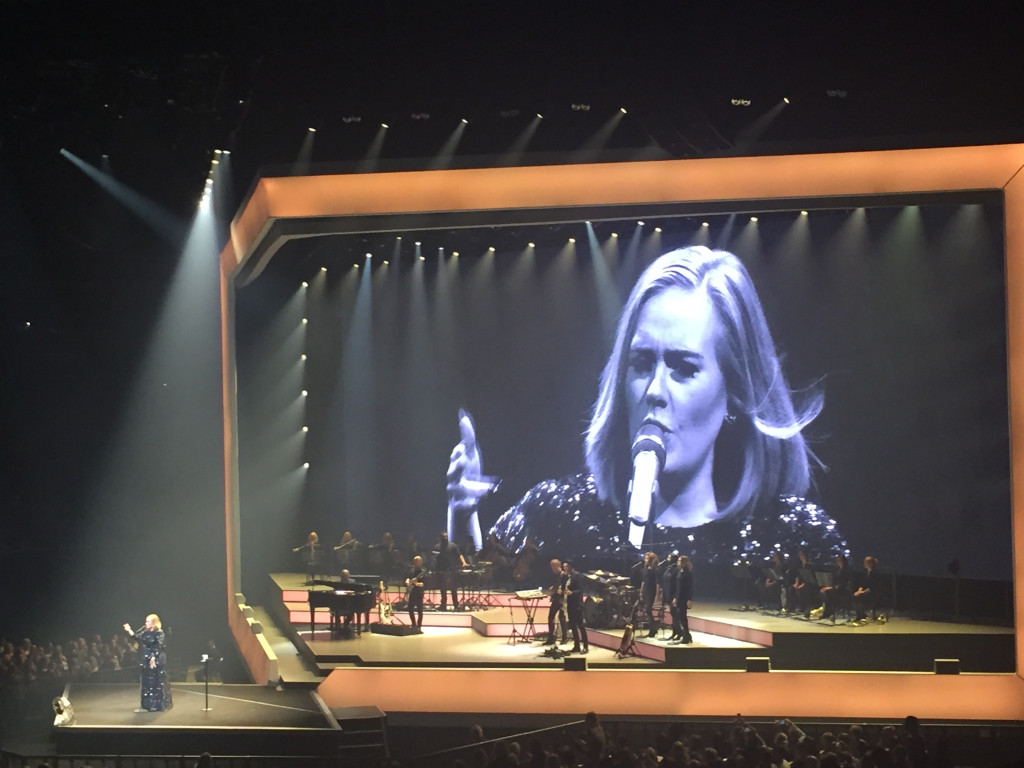 SAN JOSE — Though Adele brought her tour supporting last year's 25 Saturday to the SAP Center in San Jose for the first of three Bay Area gigs, it was a song she played from her first LP that spoke volumes.
Within a decade, the British pop soul singer rocketed from indie darling to arena spectacle, a transition she noted when talking about "Chasing Pavements" from her debut slab, 2008's 19.
"This song started my career in America," she said. "I just wanted to let you know I don't take it for granted that I'm here in San Jose, playing a room this big when I'm from England. … Never in a million years did I ever think it would happen in any shape or form in America because it never really does for (English musicians)."
She talked of once playing the song at a radio station and "three people showed up for the free pizza."
It's safe to say things have changed. Adele has mastered the transition. Saturday's gig was Adele's first in the Bay Area since an August 2011 stop at the Greek Theatre in Berkeley.
Her return rides on 25, from which she played six songs, including opening the show with its smash hit, "Hello." The album broke the all-time record for first-week sales, moving more than 3 million copies in an era when records can hit No. 1 with sales of 35,000.
Her arena show — making its 61st stop, as she reminded Saturday's crowd twice — elevated its tricks to match her magnitude of superstar. She emerged from inside a secondary stage in the middle of the arena floor to start the concert.
On "Set Fire to the Rain," Adele prowled inside a prism of falling water droplets. For "Skyfall," her song for the James Bond film of same name, beams of light cascaded across the arena to help with the "spy movie" vibe.
For "Make You Feel My Love," her Bob Dylan cover from 19, she urged fans to light the torches on their cellphones, turning the "Shark Tank" into a constellation of glowing white lights.
All of the spectacle would be for nought if her performance weren't exemplar, but it was. While her banter felt off the cuff and unrehearsed, when she sang, that soaring, powerful voice was effortless and entrancing. She shined throughout the night, but her voice seemed to find an extra intensity when singing "Sweetest Devotion," which she penned for her son.
The most divisive part of her two-hour show was the banter between songs, which totaled more than 40 minutes. She repeatedly turned up the house lights to tell rambling stories about the inspirations for songs, recent movies she's seen, a possible allergy to strawberries, her love of Alison Krauss as well as Target and Bed, Bath and Beyond and much more.
She invited a couple from Sacramento, Chris and Kevin, on stage to take a selfie with her. She got the arena to sing "Happy Birthday to You" to another fan. Early on, she sang the opening lines of Tupac's "California Love" to show she was happy to be back in the Golden State.
Those who found the songstress' witty, self-depricating whimsy charming enjoyed it as part of the entertainment package. Adele even cracked herself up on a few occasions, unable to suppress her distinctive cackling laugh. It gave the show warmth, personality and intimacy. But others could be seen wishing she would've played more material.
The two-hour affair wrapped with colossal, breakthrough hit "Rolling in the Deep." As the song wheeled into its final chorus, Adele jumped up and down with excitement before jets of confetti blasted the crowd for the show's celebratory finale.
It was a far cry from the 19-year-old who wrote "Chasing Pavements," but it's a change Adele showed she has conquered.
She finishes her Bay Area visit with sold-out gigs Sunday at San Jose's SAP Center and Tuesday at Oracle Arena in Oakland.
Setlist
Hello
Hometown Glory
One and Only
Rumour Has It
Water Under the Bridge
Skyfall
Million Years Ago
Don't You Remember
Make You Feel My Love
Send My Love (To Your New Lover)
Sweetest Devotion
Chasing Pavements
Someone Like You
Set Fire to the Rain
Encore
When We Were Young
Rolling in the Deep
The crowd lights the torches on its cellphones as Adele covers Bob Dylan's "Make You Feel My Love" July 26, 2016, at the SAP Center in San Jose.