REVIEW: Coldplay blows through curfew at Levi's Stadium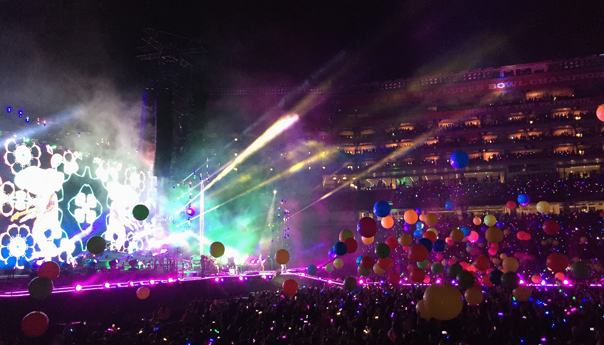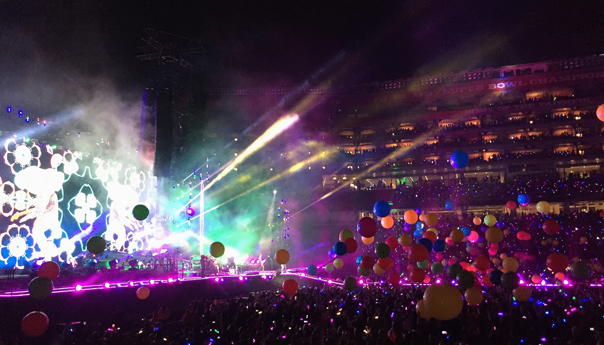 SANTA CLARA — Coldplay rocked the final weekday concert at Levi's Stadium in Santa Clara for the foreseeable future on Wednesday.
With a Santa Clara city ordinance that called for a strict 10 p.m. curfew, Coldplay–vocalist and multi-instrumentalist magnate Chris Martin, guitarist Johnny Buckland, bassist Guy Berryman and drummer Will Champion–led the crowd in an 11-song extension after the limit was reached, pushing on until nearly 11 p.m.
Levi's Stadium, home to the San Francisco 49ers is being forced to rethink its concert hospitality thanks to an ornery hometown. But it is probably for the best.
As an open-air outdoor arena, Levi's is a great for a concert like the Grateful Dead 50-year anniversary that took place in 2015 or the football games it was built for, but the vibe of the venue leading up to the moment that Coldplay took the stage was stifling, with jets circling overhead on their way into Mineta San Jose International Airport.
But as soon as Coldplay took the stage, my attitude shifted and the band took control of the massive crowd. The lights went down and an opera piece played as the band filed onto the small center of an enormous stage.
A catwalk extended from the back of what is normally the end zone to about the 50-yard line, where the band convened for a brief, three song performance in the middle of the set. The center stage performance ended with a beautiful rendition of "Everglow," dedicated to Tom Petty, who passed away days earlier, and those affected by the music festival massacre in Las Vegas.
Although it was never an outright focus point, Martin, dancing among the rainbow confetti, glitter clouds and fireworks, stressed the love in the air and the strength music fans have in numbers.
"It's a crazy, mixed-up world out there, so we're going play the best show of our lives," he said. "It's all we can do."
The sense of urgency was palpable, but I have to wonder if that high level of energy and insistence in its delivery is part of what drove the band to such heights in the first place.
The 22-song setlist included the group's biggest hits, from "Yellow" to "Clocks," "Viva La Vida," and "Charlie Brown," which included one false start. Coldplay also covered "Something Like This," its collaboration with The Chainsmokers.
Opening acts Tove Lo and Alina Baraz warmed the crowd up and set the mood, playing through the setting sun and earning a slew of new Bay Area fans in the process.
Follow writer Joshua D. Huver at Twitter.com/Must_Have_Media and Facebook.com/musthavemedia.