Flock of Dimes shows vulnerabilities at Bottom of the Hill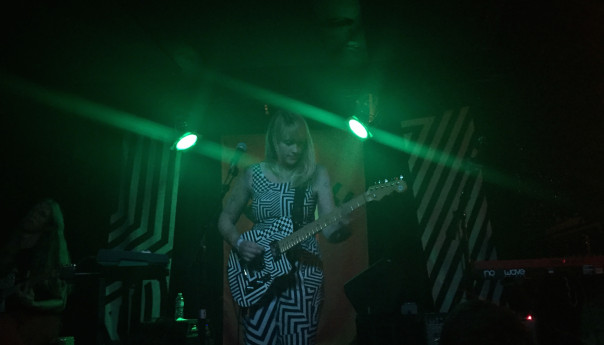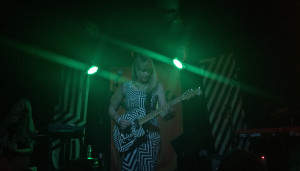 SAN FRANCISCO — Jenn Wasner is no stranger to performing in front of a crowd, but not in this way.
One half of Baltimorean indie rock duo Wye Oak, Wasner is on her first solo tour under the nom de guitar Flock of Dimes, and her tour van made a stop Tuesday at Bottom of the Hill.
"This is my first tour ever as Flock of Dimes and it feels like jumping out of an airplane or something," she said. "It's terrifying and it's wonderful all at once."
Wasner underlined that complicated vulnerability when she described the emotional difficulties of touring, especially in support of her first LP as Flock of Dimes, September's If You See Me, Say Yes.
"All of my worst psychological demons are really just, like, they're banging at the door and they're doing a pretty good job of slipping through the cracks," Wasner said. "And I'm losing my voice and I'm low on sleep, but every time I get up here and I play these songs with these people, I'm so fucking happy."
The project serves to anthologize Wasner's different genres and styles thus far in her career, bringing together the folk, rock and dream pop of Wye Oak with the pop of her Dungeonesse project.
The stew made for an interesting brew as complicated as Wasner's conflicting emotions. The more danceable numbers landed best, with a dual synthesizer action powering "Ida Glow" to sway some hips. On "Minor Justice," Wasner untethered herself from her post and moved around the center of the tiny Bottom of the Hill stage, dancing and engaging with the crowd. Other songs reflected her combination of terror and wonder, showing the fragility she feels about playing under the Flock of Dimes name for the first time.
She kept her sense of humor about her, laughing as Taryn Miller from opening act Your Friend ran on stage to hug her as well as heckle from the front row. She also showed appreciation to the venue, which is celebrating its 25th anniversary.
"Thanks again to Bottom of the Hill for being such a pretty place to play," Wasner said. "I mean, I dunno if you guys looked at those calendars, but the names? I mean, Matchbox Twenty? What? Are you kidding me?"
Follow Nick DeCicco at Twitter.com/ndeciccodr and Facebook.com/nickdjournalist.
Setlist
Birthplace
The Joke
Everything Is Happening Today
Apparition
Flight
Given / Electric Life
Ida Glow
You, The Vatican
Minor Justice
Sometimes it Is Right to Have No Answer
Semaphore
Encore
Amelia