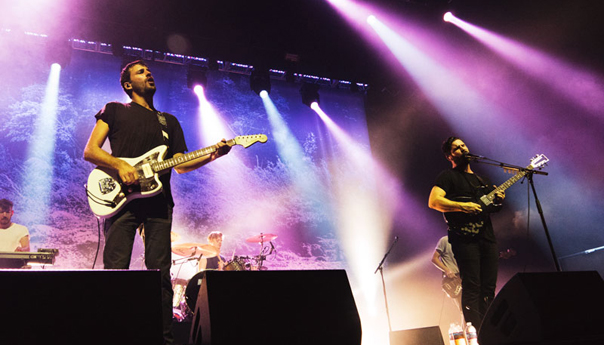 Review: Foals turn anxiety into release at the Fox Theater
OAKLAND — A concert performance wasn't the first thing on many people's minds Monday evening at the Fox Theater. Faces flashed on glowing screens. The first presidential debate was still on. Those who couldn't watch were following along on social media. In the basement, the bands also watched. Overall, the mood was one of incredulousness.
How could the American people let this happen? How did it get this far? What is going on? It was Yannis Philippakis, frontman of U.K. rock band Foals, the evening's headliner, who summed up the mood in the room halfway through their 90-minute set:
"I don't know if it's out place, but we watched it," Philippakis said. "I don't know what that was, but here's a song to wash that shit away." With that, Foals launched into an extended cut of "Spanish Sahara," off 2010 sophomore album Total Life Forever. The track started as a slow burner before building to a climax and release of pressure.
Foals were technically on their "A game" from the outset of the set, but it took those words from Philippakis to turn the mood from foreboding to promising. The packed floor wanted to dance. They needed an excuse, and they got one with lyrics like, "Now the waves they drag you down/ Carry you to broken ground/ Though I find you in the sand/ Wipe you clean with dirty hands."
Foals are touring in support of their 2015 release, What Went Down, and a third of the set consisted of newer material, which many in attendance appeared to know by heart. The band has a strong, loyal Bay Area following. They swayed, jumped and slammed their bodies together from the moment the band took the stage to the lyric-less "Prelude," off 2013's Holy Fire. New track "Snake Oil," another one fitting the evening theme, followed and built anxiety.
Emotions continued to rise with "Olympic Airways," a track off 2008 debut Antidotes, "My Number" and "Providence" from Holy Fire and "Give It All" and "Mountain at My Gates" off the new album.
The set was actually identical to Foals' other shows this past week. Whether a static song order or not, it fit perfectly on this night. "Mountain at My Gates," the band's first alt-rock radio No. 1, shows the band's depth. Where some songs demanded an aggressive response, its subtle tones express vulnerability.
Foals closed with the one-two-three punch of Holy Fire's "Inhaler," the new album's title track, and the debut's "Two Steps, Twice." Philippakis crowd-surfed in a turbulent moshing sea. If this was the end, he was the captain and would go down with the ship.
New York indie rock band Bear Hands and SoCal psych and blues rock band Kiev opened the show. The latter played seemingly as long as the headliners, and stood out when its rhythm section blended in jazz pacing to its songs.
Follow Roman Gokhman at Twitter.com/RomiTheWriter and RomiTheWriter.Tumblr.com.