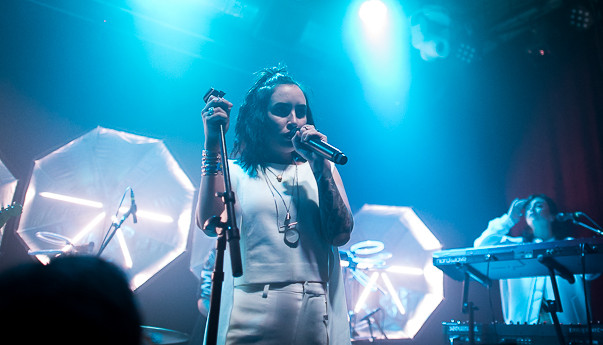 Review: Norway comes to party at Highasakite's Rickshaw Stop gig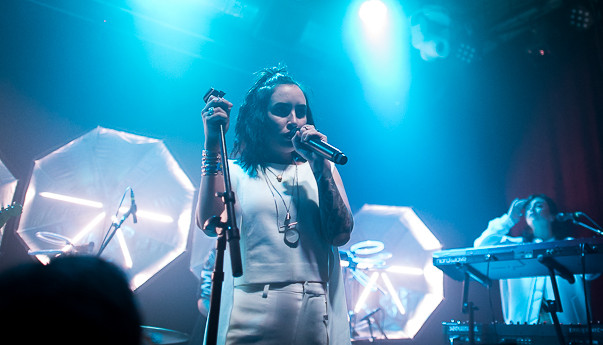 Photos: Brandon Jernigan
SAN FRANCISCO — Friday was Norwegian night at the Rickshaw Stop in San Francisco.
It wasn't billed that way, but thanks to Oslo-based headliner Highasakite, that's how it turned out.
The Scandinavian pop quintet found a fan base beaming with support. Show-goers spoke Norwegian in line before entering the venue. One fan waved a Norway flag from the crowd. As Highasakite prepared to take the stage, fans sang together in what the untrained ear had to guess was a song of Norwegian origin.
While embraced with open, loving arms, Highasakite members didn't focus too much on their nationality. In an approximately 75-minute set, the group ripped through every track from its latest LP, Camp Echo, along with other gems and a Bon Iver cover.
The tiny Rickshaw Stop stage confined Highasakite. Singer Ingrid Helene Håvik twirled her arms and danced to engage listeners, but she seemed trapped by the constraints of the physical space.
Håvik and company were at their best when stomping through the group's uptempo electropop and synthpop, such as a glorious "Deep Sea Diver" or "Someone Who'll Get It."
Their cover of "Heavenly Father," Bon Iver's contribution to the Wish I Was Here soundtrack, slowed the pace too much, curbing the momentum the band built during the beginning of its set.
Highasakite showed a better grasp of a slower number with "God Don't Leave Me," which rides on the back of a pensive keyboard phrase before building to a showy finish.
With a little more experience and a bigger venue to work with, Highasakite could just turn into a force in the live setting.
Follow photographer Brandon Jernigan on Instagram and visit b3one.com. Follow Nick DeCicco on Twitter.
Setlist
My Name Is Liar
My Mind Is a Bad Neighborhood
Hiroshima
Leaving No Traces
Chernobyl
Someone Who'll Get It
Heavenly Father
F-Moll Overgang
Samurai Swords
Deep Sea Diver
Keep That Letter Safe
God Don't Leave Me
I Am My Own Disease
Golden Ticket
Since Last Wednesday
Lover, Where Do You Live?