REVIEW: Mazzy Star singer Hope Sandoval shines with The Warm Inventions in Berkeley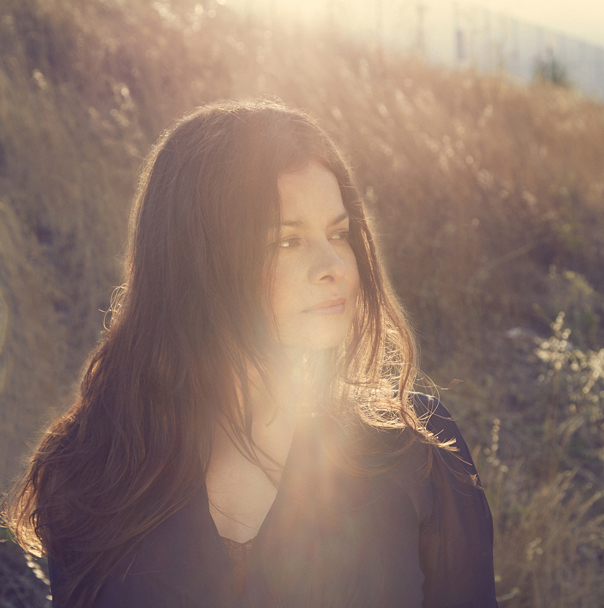 BERKELEY — Hope Sandoval and Colm Ó Cíosóig have both made a name for themselves with other bands; she as the vocalist of dream pop band Mazzy Star and he as the drummer of shoegaze pioneers My Bloody Valentine. Together, they make laid-back tunes as Hope Sandoval and the Warm Inventions, and Friday their group played a soft and mellifluous set at the UC Theatre.
They created their unique progressive folk sound by mashing Sandoval's signature voice and Cíosóig's post-punk influence. Throughout the set, the band played not only the entirety of its new EP, September's Son of a Lady, but also numerous tracks from its previous full-length album, 2016's Until the Hunter, like "Liquid Lady" and "Let Me Get There" (minus the Kurt Vile duet; he'll be in the Bay Area with Courtney Barnett next week), and "Trouble," off 2010's Through The Devil Softly.
Throughout the show, the backdrop rotated past old portrait photos from the early 1900s, which lended a hand to the ethereal vibe. The 20-minute encore ended with a fan favorite, "The Hiking Song." Sandoval did not leave her dedicated fans disappointed.
Even on Friday the 13th, the show went off without a hitch—well, almost. The only misfortune was a single stumble during one of the earlier songs. It was nothing like what happened to fans in Seattle two nights earlier, when Sandoval walked off the stage for a nearly one-hour delay, which Ó Cíosóig attributed to the shock of barely escaping the North Bay fires. The band had played at Gundlach Bundschu Winery in Sonoma on Oct. 8.
Sandoval didn't let Friday's misstep slow her down, and continued with her enchanting lyrics like "Sleep sleep, until you feel desire/ Sleep sleep, until you don't feel alone" from "Sleep," a song from the new EP. The xylophone contrasted the dark, longing lyrics, and added a youthful longing to the sound.
San Francisco husband-wife duo Peaking Lights opened the show. The duo matched the ethereal nature and ambiance of Hope Sandoval and the Warm Inventions. The atmosphere the two created over a 30-minute set perfectly set the stage for the headliner. The setlist included newer tracks from 2017's The Fifth State of Consciousness, such as "Everytime I See the Light," as well as some older material like "Conga Blues" and "Rare Done Vibes."