Review: Joseph and Bailen bring the family band experience to the Independent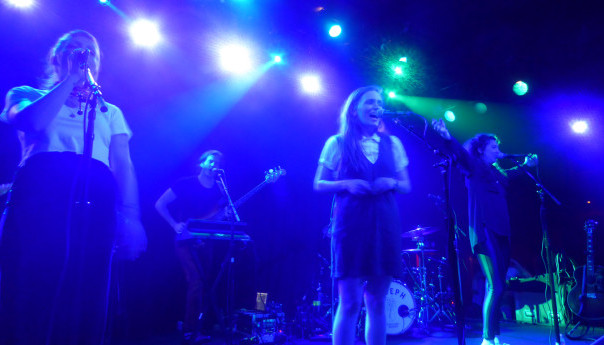 SAN FRANCISCO — April may be known as Fauxchella in the Bay Area, but it's also a good month to catch some of the future breakouts at this year's Outside Lands Music Festival. That was the case Sunday at the Independent, where harmonizing Portland trio Joseph made a splash.
Natalie, Allison and Meegan Closner had the stage presence and vocal chops of three sisters who have been singing together their entire lives, which of course is not true. Because near-packed crowd remained at full attention and engagement, trading jokes, and responding to the clearly audible fan comments, Joseph was able to turn the 500-capacity Independent into an even smaller, more intimate venue.
The Closners took turns singing lead, but opened with each singing a line of a meditative
preamble ("Stay Awake") before kicking into gear with "One Hundred Ways." The song built slowly before erupting with three-part harmonies and shifting from folk to rock at the bridge.
The sisters were accompanied by a three-member backing band, and the following "Canyon" was highlighted by the twangy pedal steel guitarist. The band followed up that fan favorite with another, "SOS (Overboard)." Meegan Closner sang lead and the track was a shining moment for her.
What Joseph lacks in songbook (the trio have released just two albums together so far), the band makes up for in storytelling. Most songs received an accompanying narrative. "Not Mine" was about letting go of what you thought you had already let go of. "Honest" was about facing your demons and depression, a song that Meegan Closner wrote for herself. Set closer "Sweet Dreams" was introduced as a zumba cool-down track.
Allison Closner shined on "Lifted Away," off 2014 debut Native Dreamer Kin, belting the high notes in a performance featuring just the three sisters, accompanied only by Natalie Closner on guitar. She played throughout but was often drowned out by the backing band. All three sisters had their moment on the howling "Whirlwind," weaving their voices in and out of harmony.
New York's Bailen, another family band, opened the concert with a strong set of its own. Twin brothers Daniel (bass) and David Bailen (drums), and their younger sister, Julia (guitar) don't necessarily make folk pop, though. Their time signatures and instrumentation have just as much in common with jazz as alt-country, and the songs they performed (not many of them are readily found online) stand out from one-another. Keyboardist Pierre Piscitelli, the only non-Bailen in the band, added a bit of R&B into the music, usually playing organ.
The quartet was at its best on a song that may or may or be called "You Don't Love Me," on which not a single guitar strum, bass pick, keyboard note or drum hit was wasted.
Oh, and this family band can also harmonize, which was strong throughout but none more so than on "Something Tells Me," the one song the band posted to its Soundcloud page.
Follow Roman Gokhman at Twitter.com/RomiTheWriter and RomiTheWriter.Tumblr.com.