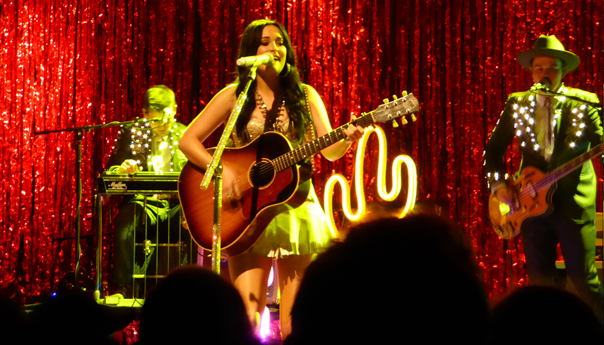 Review, video: A night in Kacey Musgraves' home town
SAN FRANCISCO — On the second of two sold-out shows at the Fillmore, Kacey Musgraves, again proved that she's the best candidate to hold the new queen of country title following Taylor Swift's abdication. But Musgraves, who performed several pop covers, also demonstrated that she's got options.
The Mineola, Texas, singer was in a talkative mood Saturday, and shined lights on her time growing up in the small town 80 miles east of Dallas—population 4,500—as well as her early time in Nashville. Many of Musgraves songs deal with small town complexities, such as staying out of other's peoples business ("Biscuits"), rejecting unsolicited advice ("Dime Store Cowgirl"), circling the wagons around loved ones ("Family Is Family"), interconnected relationships ("This Town") and hard times "(Merry Go 'Round").
Musgrave's performed each of those songs as if she wanted the audience to learn from her and her town's experiences, and be nice to one-another. Backed by an expert five-piece band, Musgraves also demonstrated her own proficiencies on the guitar when called upon. While her vocals were not as strong as on her last Bay Area stop, when she performed at the Fox in Oakland, she appeared to be having more fun.
Perhaps it had something to do with an old roommate from Nashville coming to the show. Musgraves talked about how she and a friend found the roommate" and the three moved in together. Speaking directly to "Samantha:" "Remember when that one bitch stole out clothes? That's a real thing that happened."
Musgraves showed off her pop tendencies with a performance of "A Spoonful of Sugar" (from the We Love Disney covers album) that would make Julie Andrews proud. She also covered Gnarls Barkeley's "Crazy," in bluegrass fashion, TLC's " No Scrubs" and mixed in bits of Bob Marley's "Three Little Birds" in with "Step Off."
Even more telling that Musgraves can go in any number of directions was her and her band's performance of "Mama's Broken Heart." The song was originally written by Musgraves but popularized by Miranda Lambert. Live, it's rock in the vein of Rilo Kiley's "The Moneymaker."
At her best, Musgraves is still a traditional country singer-songwriter, but she doesn't rest on laurels, which is why fits in so well in the diverse Bay Area.
"I'm cool with a little weird," she said.
Tart-mouthed opener Sam Outlaw performed traditional-sounding country music with a lyrical twist. When he promised a "religious song," what instead came out was "Jesus Take the Wheel and Drive Me To a Bar." "It's a religious song but also doubles as a drinking song," he said.
The Los Angeles native acknowledged that a country singer with a moniker of "Outlaw" comes off as extremely "fucking phony." It's his mother's maiden name, he said, before introducing a song dedicated to his mother, "Ghost Town," a somber tune about the way life used to be in the ol' days.
Follow Roman Gokhman at Twitter.com/RomiTheWriter and RomiTheWriter.Tumblr.com.