REVIEW: Kings of Leon, Nathaniel Rateliff & the Night Sweats incite singalongs at Shoreline
MOUNTAIN VIEW — Only at a Kings of Leon show will you see loads of people wearing hats embroidered with the word "ASSHOLE." It's a reference to "Fans," one of the many songs the group played during their two-hour set at Shoreline Amphitheatre on Thursday.
The Nashville band of brothers, on tour for their latest record, WALLS, kicked the night off with "Conversation Piece." The song, which is also from the new album, gave an inadvertent shout-out to the Golden State crowd. "Take me back to California," sung vocalist-guitarist Caleb Followill. It was immediately followed by scattered cheers from audience members who caught the coincidence.
Kings of Leon are solid live. Followill's hoarse, but velvety vocals, paired with the band's powerful music fills, sound like they are coming straight from the studio recordings. On stage, massive light rods glowed to every beat, while images of the band flashed on multiple screens that resembled bug eyes. With each song, the band's energy emitted through both sound and sight, demanding to be felt by all senses.
The band played songs from throughout its catalog. "Taper Jean Girl," "Mary," "California Waiting" and older hit "Use Somebody" all made an appearance. Fans echoed the lyrics word-for-word and swayed their arms like ceaseless waves.
Immediately after "Use Somebody," the lights dimmed and numerous silhouettes scrambled across the stage. The stage had suddenly switched to an acoustic set-up, and every band member stood at the front. The unplugged session featured slower tracks like "Milk" and "Talihina Sky."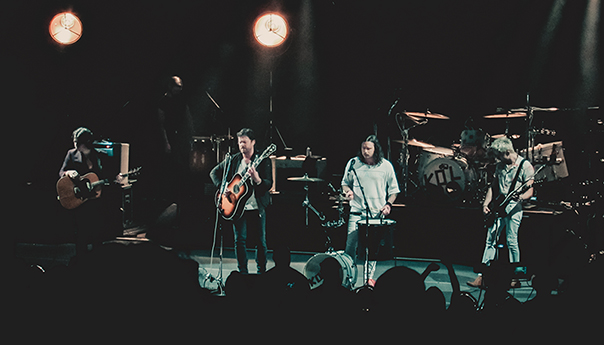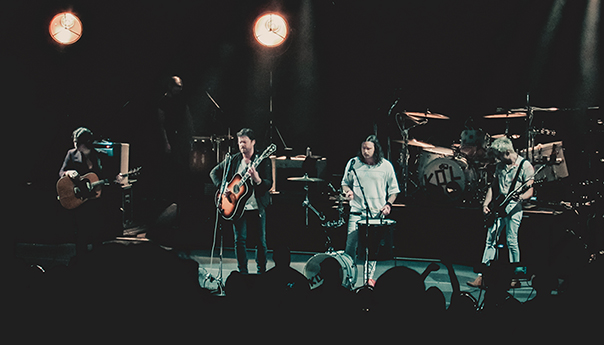 "Walls" came next and served as the night's climactic moment. Starting out acoustically, Followill brought out his electric guitar mid-song and performed the rest of the track with upbeat vigor.
The surge of energy stayed strong throughout the rest of the evening. When the band played "Sex On Fire," the stage lights flashed erratically to Followill's brazen yells. Switching from red to white hues, the entire amphitheater was illuminated front to back.
The night ended with "Waste a Moment," an upbeat ode to allowing yourself to simply enjoy your current surroundings. "Take the time to waste a moment/ Never ask to be forgiven," fans chanted.
Nathaniel Rateliff & the Night Sweats opened the show, donning a strikingly different sound from Kings of Leon. Blending Americana and blues, the band's sound was made up of an electric organ, a brass section, and of course, guitars, bass and drums.
Frontman Rateliff acknowledged that the audience might not know his band. But whether or not they did, the crowd reacted as any fan would, clapping and dancing along to every song. With multi-part harmonies, Nathaniel Rateliff & the Night Sweats performed well-received tunes like "What I Need" and a cover of The Band's "The Shape I'm In."
Follow Chloe Catajan at Instagram.com/riannachloe and Twitter.com/riannachloe.