REVIEW: Mike Shinoda fuses past and present at Palladium homecoming
LOS ANGELES — Mike Shinoda returned to his hometown Friday for a homecoming show at Hollywood's historic Palladium. Shinoda's setlist spanned his career across his vast array of projects, including Linkin Park, Fort Minor and material from his recent solo debut, Post-Traumatic. He opened the show with Fort Minor's "Welcome," which served as a fitting reintroduction because the song has an additional depth and meaning following a tumultuous past year.
Mike Shinoda
Grandson, Don Broco
8 p.m., Tuesday
The Masonic
Tickets: $40-$60+
Mike Shinoda kept up the pace with the bouncy "Ghosts," which led into an exhilarating percussion-heavy take on the Linkin Park cut "When They Come For Me." Shinoda played emcee and storyteller for the evening, taking ample time between songs to have a conversation with the crowd. He reminisced about growing up in Southern California, his experiences over the past year, and his own tips for becoming mentally healthy. Shinoda spoke to his awareness that fans attend his show for diverse reasons.
"If you're here because Chester was your absolute favorite singer and you feel sad, that's OK." Shinoda said. "If you're here because you love Linkin Park and want to hear those songs, that's OK, too. If you're here because I'm your favorite singer, I question your taste, but that's cool, too."
Before diving into the machine-gun rhythm of "I.O.U," Shinoda talked about his love for writing battle raps with his friends growing up and how the song was a turning point halfway through the recording process, when he slowly realized it was all right to have fun in his music again.
Shinoda's stage presence jumped back and forth between two personas. On his solo material, he attacked with the unrestrained energy of a new artist, working double time to sell the packed Palladium on the less-known new songs. But when he played Linkin Park songs, Mike Shinoda focused more on building a vocal relationship with fans singing along.
Shinoda has added two backing musicians to his band; U.K. multi-instrumentalist Matthias Harris and Israeli drummer Dan Mayo. Mayo's stellar drumming—jumping between rhythms—added life and depth to even the most well-known material.
On the biographical "Kenji," a song about his father's time in a Japanese internment camp during World War II, Shinoda referenced the parallels of the song's message to today, adding the importance of respecting the existence of other viewpoints in political debate.
Shinoda was a master of the live mashup, effortlessly fusing songs from across his catalog. "Sorry For Now" included a rap from an original  Linkin Park fan favorite "High Voltage." "Waiting For the End" was combined with Fort Minor single "Where'd You Go." Shinoda's melded solo track "Over Again" with Linkin Park's "Papercut," which served as a thrilling finale to the main set.
One of the more emotional moments came when Mike Shinoda stepped behind the piano by himself to lead the crowd in communal singalong of two of Linkin Park's most iconic tracks. He spoke about the current tour is as a his way of saying "thanks" to fans that helped him during some of his toughest days of the last year before diving into heartfelt performances of "In the End" and "Numb."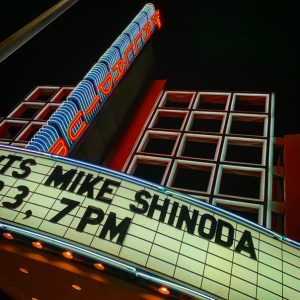 Shinoda returned to play an extended encore featuring Linkin Park's "Iridescent," Fort Minor's "Remember the Name" and a medley of "Good Goodbye" and "Bleed It Out." He joked about his penchant for changing material on-the-fly before adding a last minute rarity: "It's Goin' Down." Shinoda closed out the show by inviting opener Grandson back to perform "Running From My Shadow," bringing the Hollywood crowd to a fever pitch.
Canadian-born, L.A.-based Grandson delivered a power-packed 40-minute set of politically charged alt-rock. With a sound reminiscent of Twenty One Pilots and Rage Against the Machine, musician Jordan Edward Benjamin did not mince his words about the subject matter of his songs. Covering everything from police brutality to opioid addiction, Grandson more or less stirred up a revolution right from the stage. His vocals were supported by a rock-solid band, providing the dramatic and heavy musical backdrop.
English rockers Don Broco turned in an impressive opening set, heavy on upbeat grooves and loud riffs. Don Broco's brand of alt-rock was a diverse mix of danceable INXS-esque pop mixed with their own occasional foray into Rage Against the Machine-inspired groove-heavy rock.
Follow writer Mike DeWald at Twitter.com/mike_dewald.