Review, Photos, Videos: Mudcrutch shows Petty's playful side
SAN FRANCISCO — Tom Petty made a goof Sunday while introducing a song at the first of Mudcrutch's two nights at The Fillmore in San Francisco.
"This is from 'Heartbreakers 2,' " he said, mistakenly referencing a song from last month's Mudcrutch 2 as a tune by that other group he's fronted for the past four decades.
It was an understandable error, but one that underscored a truth about Sunday's gig. While Mudcrutch is a different vehicle than Petty's typical fare, it is something of a peculiarity, eschewing any of the familiar Heartbreakers stuff for its own originals.
Though Mudcrutch didn't start releasing full-length albums until the 21st century, the group's existence extends back to the early 1970s, predating the formation of the Heartbreakers. That makes it hard to call Mudcrutch, currently on its first tour in eight years, a side project.
It's a group that relieves some of the pressure on Petty to be a rock 'n' roll star. Here he plays bass while Tom Leadon and the Heartbreakers' Mike Campbell do the heavy lifting on electric guitar. Rounding out the group on this tour are drummer Randy Marsh, guitarist and banjoist Herb Pedersen and the Heartbreakers' Benmont Tench on piano and keyboards.
Easing the focus on Petty gave him the freedom to be playful, miming drinking and smoking over Leadon's shoulder as he spoke. On several songs, between scraps of lyrics, Petty flashed a big, beardy grin.
Mudcrutch's material is a mixture of songs written in its 1970s incarnation as well as recently penned originals. Tracks such as "Save Your Water" are among the first Petty ever wrote.
While such songs were delivered with love Sunday, it didn't obscure the fact that Petty grew as a songwriter.
It's telling that two of the best songs Sunday were not Mudcrutch originals. "Lover of the Bayou," a cover of The Byrds, swelled to a flashy crescendo with Tench adding tension as Campbell looked effortless while ripping a solo.
In perhaps the biggest reaction of the night, Mudcrutch tackled Bob Dylan's "Knockin' on Heaven's Door," a curious cover choice since Petty and Dylan teamed up in Traveling Wilburys.
But it also fit with the theme of the night. Petty told stories of Mudcrutch's history and the early days of his career, including playing in a bar with topless dancers. Covering Dylan in that atmosphere felt like a knowing nod to those early career comparisons to Dylan.
Petty went on to buck those expectations by finding his own voice, but in Mudcrutch, he seems to content to just be a member of the gang. Every member sings at least one song on Mudcrutch 2, an idea that carried over to Sunday's show, too.
In its communal aspect, it is reminiscent of the Traveling Wilburys, another Petty effort that is difficult to relegate to mere "side project" status.
It's easy to wonder why Petty tills this ground, but the flip side of that coin is potent: Why not? It's not like there's much Petty needs to prove. He's reached a point in his career when he has the luxury to do as he wants.
Mudcrutch is a window into Petty's past, but as a novelty for his devoted fans, there's enough to satisfy.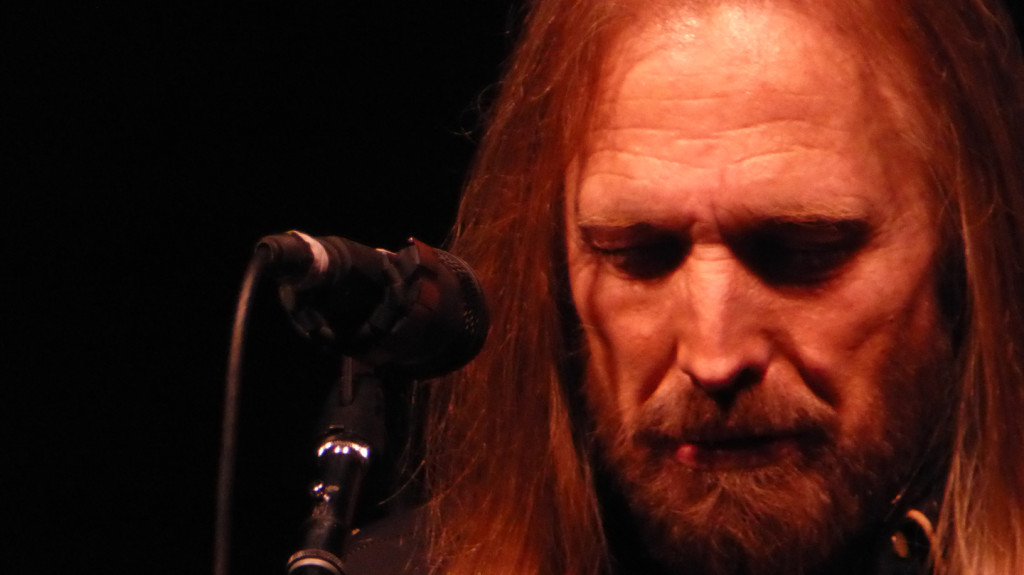 Setlist
Shady Grove (Traditional song)
Orphan of the Storm
Six Days on the Road (Dave Dudley cover)
Scare Easy
Trailer
This Is a Good Street
Lover of the Bayou (The Byrds cover)
Beautiful World
Dreams of Flying
Save Your Water
Hungry No More
I Forgive it All
Knockin' on Heaven's Door (Bob Dylan cover)
The Other Side of the Mountain
Hope
Welcome to Hell
Victim of Circumstance
The Wrong Thing to Do
Bootleg Flyer
Encore
Crystal River
Follow Nick DeCicco at Twitter.com/ndeciccodr.