Wilco makes case for consistency in residency at The Fillmore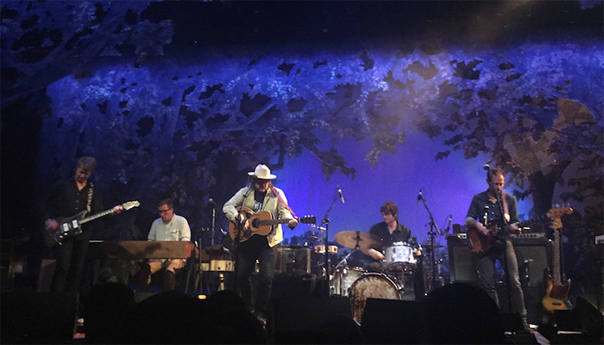 SAN FRANCISCO — Wilco is nothing if not consistent.
For the better part of the past decade, the band's been saddled with the grand undefined label "dad rock," which simultaneously fits and seems unfair.
As the group showed Saturday during the fourth in a five-night residence that concluded Sunday at The Fillmore in San Francisco, it's a fitting label because there is an inoffensiveness to the Chicago six-piece band.
They're not a particularly dangerous group. They don't have pyrotechnics. They don't inspire mosh pits. Few people ever pushed a Jeff Tweedy song up to 11 to piss off their parents.
But at the same time, the label does the band a disservice, suggesting too much safeness. Let's not forget this is the same band that was dismissed from Reprise Records 15 years ago in a creative showdown about Yankee Hotel Foxtrot because it strayed too far from the Wilco sound.
If "dad rock" means consistency, however, that feels accurate. Tweedy's batting average would be good for Cooperstown, with few true clunkers in his catalog.
While the songwriting craft keeps them playing, as Saturday's show made clear, Wilco is at its most dynamic in the live setting in its instrumental passages when Tweedy or guitarist Nels Cline soar.
Cline's showpiece is "Impossible Germany," Wilco's de-facto anthem in lieu of a monster mainstream hit. It's been played at nearly every Wilco gig since Sky Blue Sky dropped in 2007.
Saturday was no exception as the band cruised to the end of an exceptional first hour by turning Cline loose on "Impossible Germany," watching the fret player stand stiff and wrench sound out of his ax as though he were shaking the music out of it. The sold-out Fillmore crowd gave him a rousing ovation, the loudest applause of the night.
"I might have made a bit of a miscalculation as far as what the next song is," Tweedy said after. "(You) always want to follow up the biggest applause of the evening with the slowest dirge."
Next came "Happiness" and "Nope," two songs from Schmilco, the band's 10th album, released Friday. The second hour gave over to more gems and obscurities in the Wilco catalog, including "Too Far Apart," the closing track from A.M., the band's 1994 debut LP.
Wilco's quality was apparent throughout. While the first 60 minutes turned out flashy show pieces — "At Least That's What You Said," "The Joke Explained," "Either Way" and "Impossible Germany" all demonstrated their guitar work — the second hour rested on Tweedy's songwriting craft, which shines through even in Wilco's deepest cuts.
The second hour also included "The Late Greats," a tongue-in-cheek nod to the band's lack of mainstream success.
"So good, you won't ever know," Tweedy sings. "You can't hear 'em on the radio."
More than two decades and 10 albums into their career, Wilco remains an unlikely find on terrestrial radio.
But as Saturday's show and their weeklong residence at The Fillmore made clear, they're pretty consistent.
Setlist
Normal American Kids
If I Ever Was a Child
Cry All Day
She's a Jar
Kamera
The Joke Explained
Misunderstood
Either Way
At Least That's What You Said
Impossible Germany
Happiness
Nope
Poor Places
Too Far Apart
Someone to Lose
Dawned on Me
Heavy Metal Drummer
Hummingbird
We Aren't the World (Safety Girl)
The Late Greats
First encore
More …
Random Name Generator
Walken
I'm the Man Who Loves You
I'm a Wheel
Second encore
Jesus, Etc.
Spiders (Kidsmoke)
Wilco's Jeff Tweedy performs "Normal American Kids" Sept. 10, 2016, at The Fillmore in San Francisco.
Wilco's Jeff Tweedy performs "Normal American Kids" Sept. 10, 2016, at The Fillmore in San Francisco.
Wilco's Jeff Tweedy performs "Normal American Kids" Sept. 10, 2016, at The Fillmore in San Francisco.