ALBUM REVIEW: Bibio treats folk as ambient music on 'Sleep On The Wing'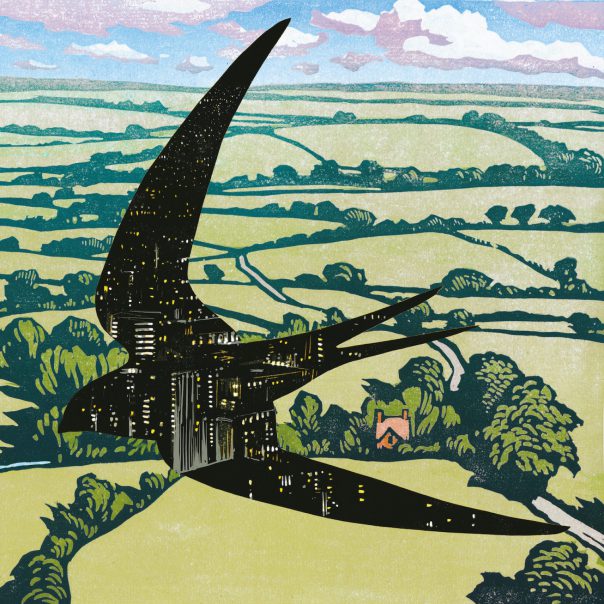 While some of Stephen Wilkinson's promotional photos might give the impression that he's simply a guitar-slinging folk singer, that's only one facet of his newest release as Bibio. Wilkinson's discography runs the gamut of indietronica, deep house and acoustic love songs, while his last two records have arguably been his most polarized. Phantom Brickworks (2017) did away with structure in favor of droning, glitchy and dark-ambient music, while 2019's Ribbons swung the pendulum to imaginative singer-songwriter music. These two extremes contextualize the sound of Sleep On The Wing. The album treats indie folk like ambient music, making for a euphoric, if a bit underdeveloped, listen. 
Sleep On The Wing
Bibio
Warp Records, June 12
The lush title track becomes more impressive once you realize Wilkinson performs the entirety of the instrumentation. A gorgeous soundscape of strings, guitars and flutes form around a dancing melodic line, as Wilkinson sings of loss, hope and escape. "Sleep on the wing/ Without the lights of the city/ Lamb in the fields/ With the folds and the clover," he sings. His lyrics paint a picture of tranquil countrysides and quiet, unfading memories of those who have passed on. It's a simple, yet multifaceted narrative—and the only particularly lyrical song on the album.
With the exception of "Oakmoss," none of the other songs on Sleep On The Wing even have vocals. Even in consideration of that song, the wordless vocal melodies more closely resemble Pat Metheny's Secret Story than a folk ballad. The constantly moving leads and harmonies give Wilkinson's mood music a sense of direction. On "A Couple Swim," Wilkinson further proves himself as a multi-instrumentalist, as his nimble bass arpeggios form the foundation of the track. He progressively adds more layers of delayed guitar and keyboards to a utopian wash.
"Lightspout" and "Awpockes" make tasteful use of birdcalls and field recordings to transport listeners to the peaceful, secluded prairies by which Sleep On The Wing is partly inspired. Such additions fill in the space left by space arrangements, whether it's the former's polyphonic synths and warbly guitars or the latter's tip-toeing guitar plucking. It's certainly a contrast to "Miss Blennerhassett," which presents a baroque take on Celtic folk—driven by a raw hand-clapped pulse. No matter where he takes his Bibio project, he adds harmonies and even multiple melodic tangents without making his songs discordant. At its best, Wilkinson's approach to Sleep On The Wing balances flawless performances, panoramic atmosphere and folky accessibility.
The album's lack of verses and choruses can serve as a double-edged sword. The synthetic bass hits on "Crocus" and the trickling guitar licks of "Otter Shadows" don't provide much in the way of development. Both could provide a solid backdrop for meditation, but the short runtime seems to end before it starts. The former's unorthodox rhythm structure is interesting, and the latter's acoustic new-age vibe is as pristine as you'd expect from a Bibio album, but both tracks needed more of Wilkinson's songwriting chops to really hit home.
Sleep On The Wing works best when it seems plausible that lyrically focused vocals could replace the instrumental melodies, like those of "The Milkyway Over Ratlinghope." Wilkinson's skill as an ambient producer and a chamber music composer expands compelling motifs beyond a repetitious base. Indeed, closer "Warching Thus, The Heron Is All Pool" shows how he can still create rapturous sonics after peeling off the overdubs and just working with guitar, bass and violin. Wilkinson induces a state of trance with folk instruments just as easily as he does when using ambient synths.
Those who enjoyed the more traditional songs of Ribbons might be left wanting with Sleep On The Wing. Even so, the album goes to show why a supposed folk artist has become a staple of Warp Records. Even when Wilkinson embraces the folk side of his project, he weaves enveloping quilts of sound rather than settling for campfire anthems.
Follow editor Max Heilman at Twitter.com/madmaxx1995 and Instagram.com/maxlikessound.