REVIEW: Eric Church sets his heart on fire on genre-breaking triptych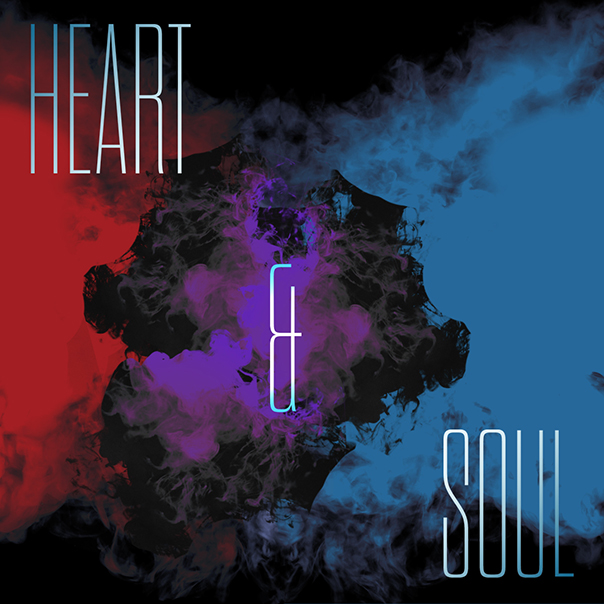 On 2019's Double Down Tour, country star Eric Church showed his ambition on-stage by performing three-hour shows night in and night out, mixing up his setlists a la idol Bruce Springsteen. Now, he's taking that train of thought on what amounts to a triple album: April's releases Heart & Soul. The releases begin Friday with Heart. Soul will follow on April 23; &—don't you dare call it "and"—will be a vinyl fan club-only release on April 20.
Heart & Soul
Eric Church
Universal Nashville, April 6, 20 and 23
Heart: 8/10
&: 7/10
Soul: 9/10
Heart & Soul is such a diverse set of releases that it becomes reductive to call it "country." Church's twangy voice is the throughline here, but the material gracefully glides and detours in numerous directions like rock and soul. That in itself is not new for Church, who has said that he takes after musicians who try something different with each project, but there's also so much depth here with the extended track list. The sample size is greater than before. Eric Church, the reigning CMA Entertainer of the Year, is definitively extending his reach beyond country while demonstrating his ability to craft Springsteenian narratives.
He also shows off his apparent talents as a ringleader. Eric Church wrote and recorded Heart & Soul over a month with a team of songwriters and musicians. He secluded himself at a shuttered restaurant in the North Carolina mountains with his writers and players, and proceeded to write and record about a song per day, for a total of 24 songs over 28 days.
Every morning, he and longtime producer partner Jay Joyce brought in some of 11 songwriters. And each afternoon, the musicians would arrive to record. In between, the musicians—such as Charlie Worsham, Moose Brown, Rob McNally, Kenny Vaughn, Billy Sutton and Billy Justineu—contributed to the songwriting and the writers to the backing vocals and instrumentation. It's fair to presume that the new songs aren't as personal as Church's 2018 album, Desperate Man, but what we get here is an all-star showcase of storytelling and arranging.
Heart
It's not Springsteen but other storytellers, Tom Petty and Bob Seger, recalled on opener "Heart On Fire." The four-on-the-floor head-bopper is eventuated by acoustic fingerpicking, twinkling keys and a squelching guitar solo. The song is about young love, but makes style points for name-checking the songs that obviously scored some makeup sessions, such as Elvis' "All Shook Up," Guns 'N' Roses' "Paradise City" and Don McLean's "American Pie." "Heart Of The Night" comes across like an amped-up gospel redux of "Running On Empty." Over a bed of choir-like melody and through neatly timed down-tempo change, Church resists being caged in, vowing to blow this town in his Thunderbird.
If you want to know where he's headed, stick around for track No. 3! "Maybe west is best, pick up I-85," he sings over a galloping guitar strum and power chords that score a story about a road trip on "Russian Roulette."
Following the somber "People Break," the equivalent to pumping the brakes on a big decision, Eric Church gets angry on "Stick That In Your Country Song," a downright hard rocker song resetting the image of the traditionally idyllic image of country music's demographic. Church swivels a spotlight onto unemployment, prison overcrowding, boarded-up stores, crime, lack of care for veterans and overworked and underpaid teachers. His anger is palpable in the screamed lyrics, and you can feel the weight of the words. The writers here are Davis Naish and Jeffrey Steele, who deserve a lion's share of the credit.
"Drop me off in Baltimore/ Where every other window's got a plywood board/ Where dreams become drugs and guns/ The only way out is shoot or run," Church growls. "C'mon I wanna pound the dash/ Stomp the gas, drive too fast/ Rock me hard, stop my heart/ And blow the speakers right out of this car." A song like that may be enough to give up hope, but Church then tries to walk you off the ledge on mid-tempo tune, "Never Break Heart," a song that could play as cliché country in another artist's hands but here morphs into a mix of pop-rock.
The first drinking song doesn't come until seven songs in! But "Crazyland" isn't even about crazy drinking, but more about a sense of community and helping others get through a difficult time. The first traditional honky-tonk number doesn't come until eight songs in! If you're into dancing music, this blend of organs, piano, Dobro, mandolin and acoustic and electric guitars will get you moving through the sawdust-covered floors of your favorite square-dancing joint. Heart ends on an optimistic note with "Love Shine Down," with percussion that bends back and forth between Bo Diddley beat and marching.
"Darlin' don't give up on me/ That's my message in the bottle on the sea/ Lil' S.O.S. from this S.O.B.," Church sings.
&
The middle EP kicks off with with two easy-flowing songs preaching positivity and giving thanks.
Eric Church plays a self-described "sunglass-wearing optimist" on "Through My Ray-Bans," selling a future (or is it a bizarro present?) that sounds too good to be true. Then on "Doing Life With Me," he shows appreciation for those who put up with him. But then comes the curveball. "Do Side" drips with funk, and even Church's voice seems to lose the twang at times. In the background, it's Joyce's synth-playing that sets the song apart from the rest of the roots-exploration material on Heart & Soul.
"Kiss Her Goodbye" and "Mad Man" then both cover breakups. Both start as sweet ballads, but the latter ends in a haze of squelching guitar soloing. Another sweet ballad concludes the middle portion of the album, with Church proclaiming how he used to be a lone wolf, but was saved when a hand reached out to him.
Soul
By the time we get to the final album, Eric Church is loose and breaking a sweat. Perhaps that explains the laidback, soulful energy on opener "Rock & Roll Found Me" and the Motown-tinged "Look Good And You Know It." There's a retro quality to the song that's a bit hard to pin down. Is it Brill Building? California A.M. Gold? No doubt part of the nostalgia dripping here is due to the background vocals of Joanna Cotten and Jonathan Singleton. Cotten sings on much of the record and shines in several places, with this song being one of those.
"Bright Side Girl" is a Jekyll and Hyde on the record. The song begins and ends as a folky ballad, but the bridge is carried by super-heavy synth bass straight from a mid-'80s power ballad. It's followed by another example of Eric Church giving the finger to country conventions. For the first bar of "Break it Kind of Guy," you expect a traditional honky-tonk tune, but sooner than you can form an opinion, a funky bass line and synth enter, throwing caution to the wind.
"I woke up feelin' dangerous put some bullets in my gun/ Brown liquor in my coffee and I called the boss's son/ I told him to tell his daddy, I'm tired of his routine/ I'm a ramblin' and a gamblin' man and bettin' it all on me," sings Church, in another nod to Bob Seger. Of course, the song also addresses Church resting on his laurels. Just because he's found success doesn't mean he's going to try to copy himself, and this song is as strong of an example on Heart & Soul as any.
Following a pop-rock arrangement on "Hell Of A View" and a bluesy one on "Where I Wanna Be," Church returns to his bread and butter (because he wants to, not because he has to, as we've discovered) on acoustic-guitar-led love song "Jenny" (eventuated with just the right amount of Hammond organ); dirty Southern rocker "Bad Mother Trucker" (telling a story about a powerful woman driving an equally powerful jet-black 18-wheeler with pink mud flaps); and "Lynyrd Skynyrd Jones," about a mixed-race son born to music fans and his difficult life. The latter has a simplistic arrangement. It's the lyrics and the way they're inflected that may make you tear up.
I'm not sure, exactly, whether Eric Church tries to differentiate between heart and soul on his three new records. But what's clear is that he's got more than enough of both.
Follow editor Roman Gokhman at Twitter.com/RomiTheWriter.