ALBUM REVIEW: Goo Goo Dolls find their inner child on 'It's Christmas All Over'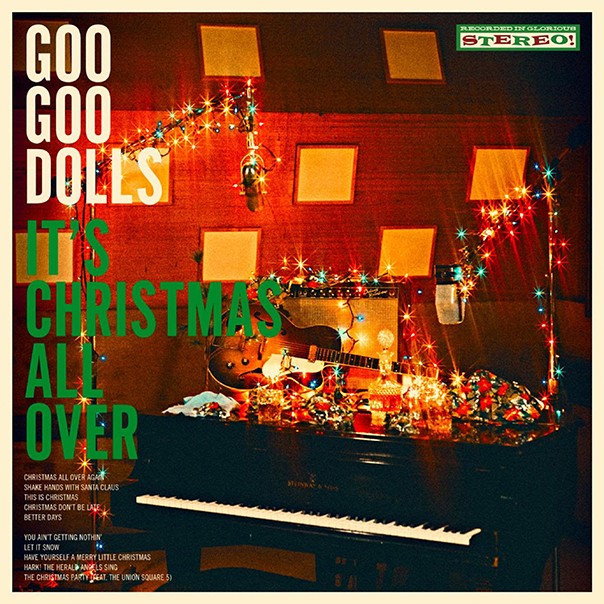 Perhaps John Rzeznik and the Goo Goo Dolls had the best foresight out of anyone during lockdown. As other musicians were writing about claustrophobic isolation, the Goos decided to press fast-forward on the rest of 2020—right to Christmas with the band's first holiday album in its 30 years. And why not!? Anything after Nov. 3 has the sheen of promise all over it. It's Christmas All Over has the sort of mix of classic holiday favorites with jazzy arrangements that you may have in your vinyl collection, as well as a couple of originals for the band's fans.
It's Christmas All Over
Goo Goo Dolls
Warner Records, Oct. 30
7/10
But the best thing of all is the nod to Tom Petty's "Christmas All Over Again," which not only gives this album its name but kicks it off with gusto. Petty's Southern drawl is replaced with a Brill-Building-esque melody that charges in just behind the beat and Rzeznik's reverb-laden rasp.
The song selection on It's Christmas All Over is a mishmash you'd expect to find on radio stations that change formats every December. From "Hark! The Herald Angels Sing," a spiritual carol, to Louis Prima's "Shake Hands With Santa Claus" and "The Chipmunk Song (Christmas Don't Be Late)." The latter song is delivered so earnestly, and John Rzeznik's voice doesn't lose the childlike quality of Alvin, Simon and Theodore—who totally missed an opportunity to provide some nostalgic backing vocals.
"Let It Snow" and "Have Yourself A Merry Little Christmas" carry a sort of muted sheen to recall listening to Christmas music on your parents' record player. The latter is a jazzy arrangement that dials back the percussion to emphasize electric guitar noodling and keyboard exploration. The album's closing medley—appropriately titled "The Christmas Party"—includes snippets of no fewer than seven more holiday classics. There's "It's the Most Wonderful Time of the Year," "The Christmas Song" (better known as "Chestnuts Roasting on an Open Fire"), "Jingle Bells," "Walking In a Winter Wonderland," "Frosty the Snowman," "A Charlie Brown Christmas" theme ("Linus & Lucy") and a fortunately wordless "Baby It's Cold Outside."
This pure jazz arrangement includes pleasurably gratuitous saxophone and lounge club background noise—with whoops, hollars, maybe some whistling. Who knows; the point is that you should be dancing by now. For the Goo Goo Dolls fans, the album includes a reworking of 2005 single "Better Days," from the band's 2006 album Let Love In. This version strips away the driving bass, guitars and symphonic elements in favor of a tinny piano paired with a quivering child's voice delivering the vocals. The vocalist here was Sydney McGorman, daughter of Jimmy McGorman, a longtime collaborator of the band and one of the co-producers of the album. It's still a hopeful song—looking ahead—making it suitable for New Year's Eve.
Then there's two Christmas originals by the Goos. "This Is Christmas," not to be confused with John Lennon's "Happy Xmas (War Is Over)," but has the same mid-tempo pace and acoustic guitar down-strumming to emphasize every second note. The similarities end with the entrance of the organ and melodramatic swooning melody. If that song doesn't range enough from the band's catalog for you, give "You Ain't Getting Nothin'" a spin. A woodsy, stand-up-bass-led lounge number—highlighted by a muted trumpet that creates an instant sexy timbre.
Does the world need a Goo Goo Dolls album? What the band demonstrates on It's Christmas All Over is that a holiday album can be created for the joy of it rather than the novelty or to check something off a bucket list. And who doesn't need some joy right now?
Follow editor Roman Gokhman at Twitter.com/RomiTheWriter.