ALBUM REVIEW: Logic feels 'No Pressure' on masterful final release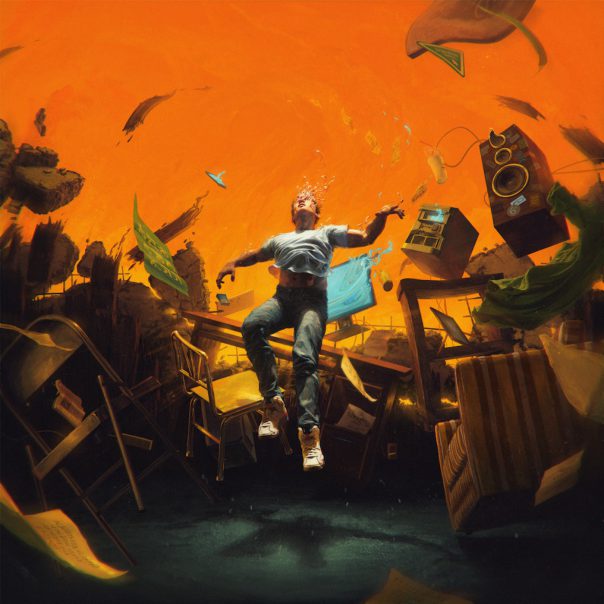 Hip-hop superstar Logic announced his retirement from music with the release of his final studio album, No Pressure. Sir Robert Bryson Hall II has faced an array of highs and lows surrounding his releases, ranging from the critically revered Everybody to the universally despised Supermarket. With many critiquing his work as corny for his focus on positivity in his music, and taking digs at the artist's biracial identity and his embracing of it; it seemed as if Logic went from king to the court jester.
No Pressure
Logic
Visionary Music Group, July 24
8/10
With No Pressure, Logic acknowledges the criticisms lobbed at him and even expresses how they've cut deep at times, yet he embraces himself and delivers a brutally honest self-portrait of the man he was and is now, contrasted with gratefulness despite a life of hardship. Logic wears his love of geek culture on his sleeve and includes a heavy helping of references to his influences throughout the No Pressure. The album's production is handled again by long-time collaborator No I.D., who delivers a wide array of exceptional instrumentals.
On the opener, the title track, Logic comes out swinging on a classic boom-bap instrumental with what is easily one of the best verses he has ever delivered. It's a textbook Logic track with an opening sample of an introductory monologue by Orson Welles, recalling Eminem's Music To Be Murdered By, which sampled Alfred Hitchcock. "No Pressure" also includes a guest appearance from voice acting legend David Hayter—in character as Solid Snake from the "Metal Gear Solid" video game franchise.
Logic goes on to speak passively about societal ills on "Hit My Line," without getting bogged down in the specifics of what issues in particular he's talking about. The track features a playful piano instrumental and several lines paying homage to Ice Cube and Kanye West. This is followed by "GP4," which features Andre 3000 of Outkast, one of Logic's biggest influences. He jumpstarts the track with a rapid-fire flow, delivering quality bars where observing his current standing.
"Open Mic \\ Aquarius II" delivers on Logic's love of Sinatra with a cool and calm intro, and jazzy instrumental evocative of a cigar smoke-filled speakeasy. The song brings another solid boom-bap instrumental with a reflective and thoughtful verse, which Logic maintains even as the beat switches to a more funky and synthetic sound two-thirds of the way through. "Soul Food II" follows the artist's feelings on the music industry and his climb to the top, contrasted with his appreciation for what he has and how the experiences have shaped him over time. The track samples Lupe Fiasco's "Gold Watch," yet again nodding to Logic's appreciation to the peers who've impacted him.
He also takes cues from contemporaries like Kendrick Lamar and Childish Gambino on tracks like "Perfect" and "Dad Bod." Adopting a flow reminiscent of Lamar's "HUMBLE" on the former, while rapping over an instrumental that would be right at home of Gambino's early work, such as Camp or Because The Internet, on the latter. He speaks directly to his infant son on "A2Z," offering to teach him his letters before jumping into an exceptional verse evocative of Blackalicious' "Alphabet Aerobics."
Many of the songs have Logic reflecting on his career, his beginning struggling with poverty, gang violence, domestic problems and mental health issues, which culminates on "Heard Em Say." No Pressure is uplifting. His gratitude is infectious and it makes the album incredibly easy to connect with on a personal level. However, Logic does break from the positive demeanor for a moment of solemn contemplation on "Dark Place," where he opens up about his insecurities, depression and feelings of inadequacy. It's raw and it serves to elevate and drive home how hard Logic has worked to pursue his artistic vision of being Mr. Brightside, even when it was not always seen as the popular thing to do.
The album closes with "Amen" and "Obediently Yours." The former is a soulful sendoff to fans. The latter brings back Orson Welles with another monologue decrying racism and bigotry, which in light of Black Lives Matter protests feels appropriate in a time where people are desperate for words of unity and compassion.
If this is the end, then Logic closes out his music career solidifying his place as an icon in hip-hop, a distinctive pillar of the larger canon that embraced lifting up others, while displaying a distinctive passion for a wide array of arts; from music to movies and from comics to video games. It's an emotional and resonant sendoff no one should miss.
Follow editor Tim Hoffman at Twitter.com/hipsterp0tamus.