Lupe Fiasco and Kaelin Ellis dig existentialism and the pandemic on 'HOUSE'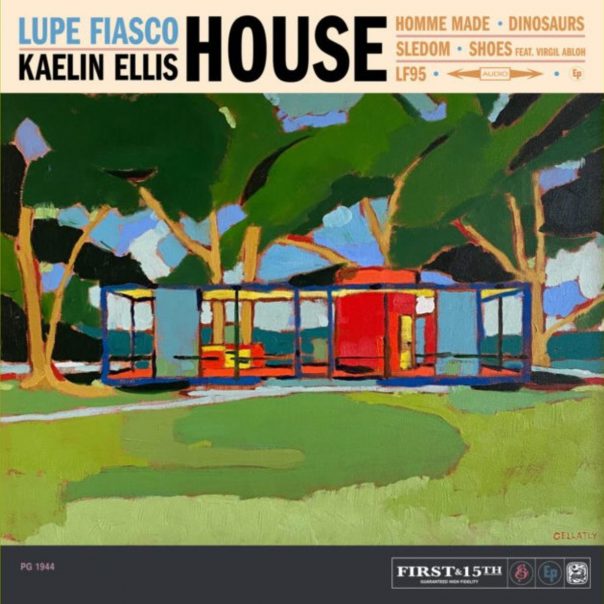 Lupe Fiasco is known for his avant-garde conceptual albums that explore a wide array of abstract and concrete ideas, presented in a highly accessible format. On his newest EP, HOUSE, he maintains that thoughtful disposition that permeates his catalog. The EP has a structure that's familiar to his prior works but is considerably less dense than his last album, DROGAS Wave. While each track contains a wealth of keen ideas, the EP is more digestible due to its short length. Producer Kaelin Ellis provides the instrumentals, offering a cerebral and dreamlike ambient jazz quality. It befits a Lupe Fiasco project. The album came together after a series of exchanges on Twitter. Ellis proposed the partnership. Fiasco, in turn, joined and on agreed to rap over Ellis' beats.
HOUSE
Lupe Fiasco and Kaelin Ellis
1st & 15th/Thirty Tigers, July 24
7/10
Opening track "HOMME MADE" is a spoken word piece set to an ambient and spacey instrumental, delivered by Virgil Abloh. Abloh discusses an array of existential issues and their pertinence to individual perception. He expands on how everything we perceive is in a sense "man made," and therefore tethered to the inevitable dematerialization of people as a whole. It serves as an introduction of sorts to "DINOSAURS," delivered over a really smooth piano and jazzy beat. The track explores concepts of how extinction leads to evolution, in both a biological and in a theoretical sense.
On the third song, "SLEDOM," Lupe Fiasco continues on with a smooth, grooving beat. He discusses work, but in particular, the modeling industry. To him, work should serve to offer a sense of enjoyment and fulfillment for people. The song further explores the concept of modeling from an artistic and business standpoint. The standout track, however, is easily "SHOES," where Lupe delivers a narrative about camping overnight outside a sneaker store for a new pair of collectible shoes. The song could easily apply to people who wait in long lines for Black Friday or new iPhones.
He highlights how people seem to find camaraderie in commodities, while also critiquing the obsessive and consumptive nature of material goods. The song eventually evolves into an exploration of the significance we assign to the material, and the relationship the material has with mortality. He also pays homage to Tupac, Nipsey Hussle and Ahmaud Arbery in the final moments of the track.
Lupe Fiasco touches on the COVID-19 epidemic on "LF95," where he also pays respects to New York rapper Fred the Godson, who passed away from complications related to the disease. This track is a little bit of a dip compared to the previous three, but Lupe still manages to deliver clever bars while promoting mask wearing and social distancing guidelines.
HOUSES displays Lupe Fiasco's insistence on ensuring some sort of thoughtful takeaway to be had on behalf of listeners. Each song inspires significant thought without patronizing us. The EP comes as we are all stuck at home awaiting the days where things can return to some semblance of normalcy, and it's artists like Lupe Fiasco who help to provide thoughtful commentary in a time where it seems many are averse to any pretense of critical thought or consideration.
Follow editor Tim Hoffman at Twitter.com/hipsterp0tamus.