ALBUM REVIEW: Neil Young quantifies the 1970s on 'Archives Volume II'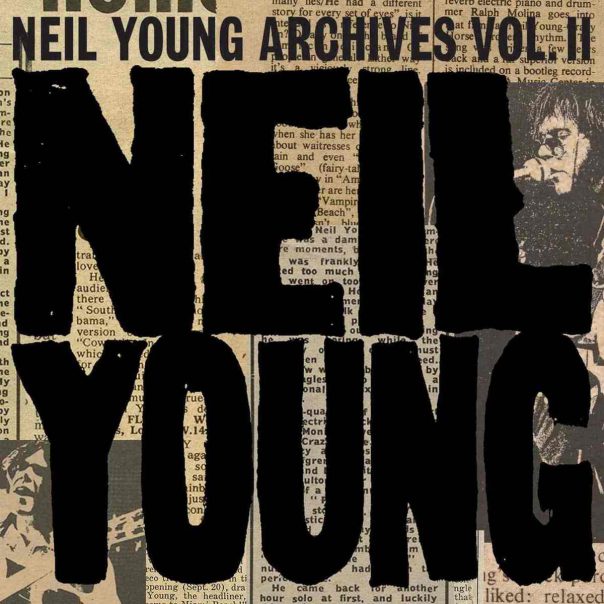 In the first half of the 1970s, Neil Young—like a number of rock stars of his generation—battled to stay relevant as industry demands attempted to direct his creativity. After a pair of commercially successful albums, he struggled to get one released as the now-classic Tonight's The Night sat on the shelf for two years. Despite the setback, Young had plenty of material. Two more albums formed and were released in 1973 and 1974. From ongoing touring and jamming, he built a mountainous pile of recordings. Now, as another year in rock draws to a close and the 1970s recede further into the past and myth—the rock titan delivers a new anthology to one of his most acclaimed creative periods.
Archives Volume II
Neil Young
Nov. 20
8/10
Archives Volume II serves as a best-of for Young's hazy creative process from the period of 1972 to 1976. At times arduously, Neil Young the editor tells the story of his younger self navigating professional success and personal tragedy. As trite as this narrative frame has become, thanks to decades of rock star tropes and hipsterism, his tale remains authentic. After all, he was part of the movement and the era that defined rock and roll for future generations.
Previously unreleased tracks, sprinkled throughout the set's imposing scope, provide the main draw. A string of strong acoustic songs bulwarks Disc 6: The Old Homestead, alongside select tunes from 1974's moody On The Beach. The first CD consists almost entirely of worthwhile obscurities, culled from the period surrounding the release of 1973's unheralded live album, Time Fades Away. The disc plays like a 1973 studio album that could have been.
Newly released songs like "Monday Morning" and "Goodbye Christians On The Shore" share a dark rumbling quality endemic to Young's folk work. A studio rave-up of "Time Fades Away" ties the material to the time it was recorded. A cranked live version of "Last Trip To Tulsa," previously available only as a B-side, strikes with surprising force. The half-acoustic, half-electric Odeon Budokan disc contrasts two vibrant live documents from 1976.
As one would expect from an in-depth retrospective, Archives Volume II brings up arcane matters of interest. The little-known "Here We Are In The Years" shows up in a live version from Tuscaloosa in 1973. Its appearance at the top of the set highlights its unusual structure and prescient lyrics. An extended "Lookout Joe," from the same concert, reveals—via Young's pathos—the ironic weight of this supposedly good-times, rockin' number.
The Tuscaloosa disc in particular proves the enduring force of Neil Young as a performer. What bites is that the entire Tuscaloosa concert has already been released. For those paying attention, that's the story with much of this 10-disc set.
On Disc 8: Dume, for example, most of Young's 1975 album, Zuma, shows up alongside a handful of obscurities recorded at the same sessions. "Kansas" and "Born To Run" are worthy additions, but they are mixed in scattershot with versions of "Danger Bird" and "Drive Back" that are identical to the commercially released versions from 1975. As a result, the disc plays like the familiar Zuma, but reshuffled among bonus tracks.
Likewise, three-fourths of Disc 3 are lifted wholesale from the Tonight's The Night album. While the ad-libbed jam version of "Speakin' Out" that opens the disc provides a unique perspective—one questions the need to hear a re-sequenced version of one of Young's most iconic albums. Any Neil Young super-fan—clearly the target audience for this set—will know these songs backward and forward. More revealing is Disc 4, a shambolic but vital live album—also previously released—which captures the slick fragility of the same material.
As with any sweeping rarities retrospective, some iffy material crops up—like the transparent "Sweet Joni," and "Everybody's Alone," a Tonight's The Night track that didn't make the cut. Some of the acoustic numbers are little more than forgotten home demos. Other tracks are not enhanced significantly by their re-contextualization. "Winterlong" and "Deep Forbidden Lake," omitted from this year's restrospective Homegrown, exist without an LP—again tagging along as compilation-only tracks.
At 10 discs, Archives Volume II sags a bit under the weight of its inclusivity. But the anthology does provide insight into the origins of songs that would only see daylight years later. Opener "Letter From 'Nam" would morph into "Long Walk Home" from 1987's Life. "Stringman," first officially released on 1993's Unplugged, appears in two versions on Archives Volume II. The brief "Monday Morning," recorded in 1972, would appear later in expanded form as "Last Dance." The resurgent "Human Highway," included here as a 1973 demo, wouldn't surface on an album until 1978's Comes A Time. In this aspect, Archives Volume II satisfies a few lingering curiosities.
If nothing else, Archives Volume II gets the timeline straight once and for all. These are Young's mid '70s albums, chronologically as they coalesced. The generous helping of live material greatly aids the overarching story of those emotionally fraught four years. On the other hand, Archives Volume II dwells a bit heavily in material that has been widely released already. Surely, the 1970s yielded some of Young's best work. His fans are by now familiar with the lore. Let Archives Volume II be his definitive statement of his music during his most troubled years.