ALBUM REVIEW: The 1975's 'Notes On A Conditional Form' is a beautiful mess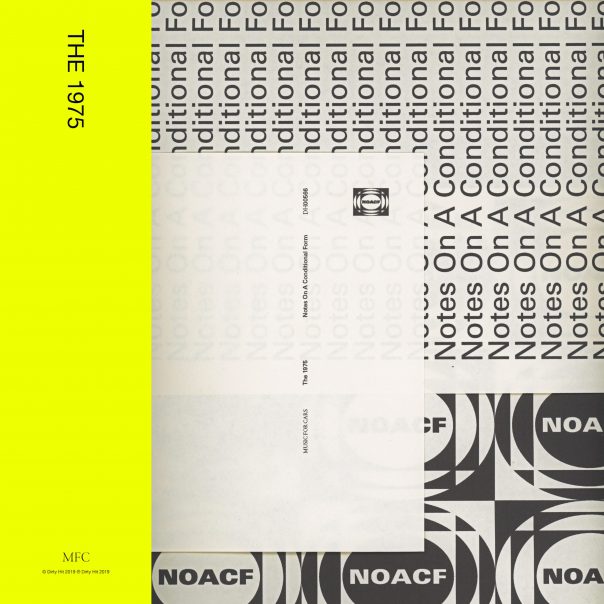 Whether it's initially embracing the boy band label or spewing tasteless jokes about struggling independent artists during an economic crisis, there are many reasons to root against Matt Healy and The 1975. But dagnabbit, there are so many more reasons to marvel at why they've been so successful. Without exhausting the many why's, their music seems to always pull out all the stops in striking the right chord with undeniable charm—even if the results are absolutely messy.
Notes On A Conditional Form
The 1975
Polydor Records, May 22
There may not be a more appropriate album title than The 1975's latest, Notes on a Conditional Form. It's a sprawling notepad with fractured ideas and jotted lines that don't make sense by themselves, yet somehow fit together. That said, the band's latest is a messy collage of intoxicating ideas and emotional fragments that miraculously compile together into an appealing whole.
The conclusion to the ambiguous and self-prescribed Music For Cars era, the rollout of Notes On A Conditional Form was appropriately puzzling. Not only did it experience a two delays, but a good chunk of it was released before it could fully take form. Every single from the raucous "People" to the glitch-folk dreamscape of "The Birthday Party" are impressive. With there being an unnecessary number of tracks to sift through—13 aside from the eight singles—The 1975 manages to throw out a few surprises to reward listeners for their wait.
To those who were hoping for sonic cohesion and thematic lines tied together, like on past records, expect some disappointment. Though gorgeous and sweeping, "End Music For Cars" and "Streaming" are two superfluous, oddly placed interludes that feel tedious and unnecessary to the album's overall unruliness. This is unfortunate considering how integral interludes were in telling the narrative of the band's past two records.
For example, "The Man Who Married A Robot/Love Theme" on 2018's A Brief Inquiry Into Online Relationships helped define the album's story of loneliness, social media obsession and the Internet. Without any rhyme to reason to the aforementioned interludes, vision, ideas and stylistic shifts are allowed to roam without boundaries. This yields results that are troubling—the record is over an hour long and unfocused—yet they are thrilling.
It seems Healy and the gang were excited about a lot of ideas they had for this album but weren't entirely sure what they wanted these ideas to culminate in. The 1975's first three records showed a clear trend, not necessarily of progression but of stylistic and topical trajectory that pointed the band in a believable progressive pop future. This is no longer the case as Notes On A Conditional Form is a sprawling and unsteady experience determined in taking listeners in whatever direction The 1975 feel like heading.
Now, even though there is a surprise waiting behind every corner, the twists and turns do perfectly align with the frontman's statements leading up to the album's release. Two years ago, Healy announced he wanted to make "my Nebraska," (Bruce Springsteen's sparsest album) yet also wanted to conjure the whimsical, dance-heavy sound of  Jon Hopkins' Immunity. That's an unlikely dichotomy of inspirations.
Listeners will easily sense the same homegrown warmth and immediacy of Nebraska, as much as they will notice the chilling, clubby, Hopkins-esque atmospheres. It is the latter, however, that wears the most vibrant get-up. Throughout and in between sparse guitar numbers like the delicate "Jesus Christ 2005 God Bless America" (featuring the wonderful Phoebe Bridgers), the whispery and whimsical "Playing On My Mind," and of course the obnoxious honky-tonk of "Roadkill," the album is littered with cuts of Burial-inspired U.K. bass and house music that'll make you sweat out all the coronavirus on the dance floor.
Though some tracks wear the mask of Burial heavier than others, like dancehall-tinged banger "Shiny Collarbone" or the sparkling club showstopper "What Should I Say," it's the more subtle executions of this sound that are most impressive. Possessing a gorgeous orchestral flare, "Bagsy Not In Net" is cut from a similar cloth as the aforementioned tracks, yet is made more ethereal and touching as the record ends.
However, it's the textured hypnosis of single "Frail State of Mind," arguably the linchpin of understanding the album's fragility, that makes the most profound mark. Combining this possible new garage direction with the band's art-pop leanings experienced two albums prior, "Frail State of Mind" is a teaming nocturnal atmosphere where night drives with the windows rolled down are a must.
It's a bit maddening that these moments are routinely drowned out by striking juxtapositions of guitar pop that recall the band's earlier work like "Then Because She Goes" and "Me You Together Song." It's not like these songs are bad—they're not—the band simply outgrew this stylistic phase. It adds nothing to the album. Though Notes On A Conditional Form rarely comes across as knowing what it wants to be, there are moments that fit and flow into one another like breeze through the branches. For example, the anarcho-punk "People," though stylistically divergent from not only the record's overall sound but the band's overall aesthetic, it swiftly grabs the baton of social woke-ness from the album opener, a Greta Thunberg speech beset against a nice ambient piece. 
For an album as defined by its musical, genre-shifting uneasiness, the main theme is equally unsteady—literally. This idea of fragility has always shown its face throughout The 1975's work, which has served as a capsule of semi-autobiographical reflections for Healy. This uneasiness, this anxiety of being around others and of existing in a fragile and broken world—while being the frontman of one of the biggest bands of the era—is most apparent.
"Go outside? Seems unlikely," Healy sardonically sings on "Frail State Of Mind." "Will I live and die in a band?" he questions on "Playing on My Mind." These instances of dread represent a mere tip of the iceberg of the fears and discomfort The 1975 frontman expresses throughout the record. Though there are moments where listeners will find themself neck-deep in Healy's psyche and destructive past, there is a cosmic level of fear that goes unresolved in the end. 
Though some will come away fatigued both by the record's length and the stylistic turbulence, one can find solace in all the mess and notion that The 1975 seems more than OK with unraveling all cemented images and presuppositions of itself. That should keep fans excited. 
Follow writer Kyle J. Kohner at Twitter.com/kylejkohner and Instagram.com/kylejkohner.