ALBUM REVIEW: Throwing Muses steer a course for posterity on 'Sun Racket'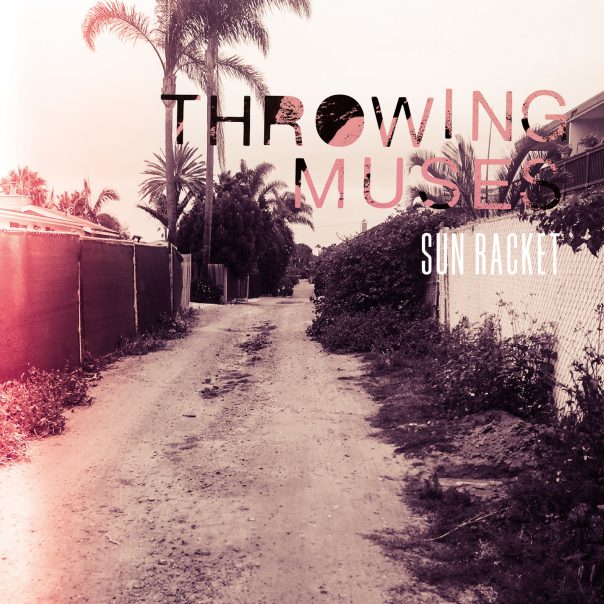 One of the extant joys of modern pop music is the capacity for under-the-radar but persistent artists to emerge like a butterfly in creative reawakenings. With Sun Racket, indie rock work mules Throwing Muses throw their hats into the ring for a potentially vital resurgence.
Sun Racket
Throwing Muses
Fire Records, Sept. 4
8/10
Throwing Muses bandleader Kristin Hersh returns to her pet project featuring a classic lineup. Drummer David Narcizo, has worked with the band continuously since its 1983 inception. Former Throwing Muses roadie Bernard Georges handles bass duties—a role he took over in 1992. Beginning with the milestone album, University, this trio has since reunited sporadically to further its nebulous goals.
Sun Racket could be considered the first classic Throwing Muses album in 17 years. Purgatory/Paradise, released in book form in 2013, constituted an ambitious multimedia art project that stands in contrast to their previous work. The record saw Hersh spreading her creative wings in a satisfying way. Nevertheless, Throwing Muses' accessibility revolves around their bringing unvarnished slabs of the raw materials of rock.
On Sun Racket, the band returns—perhaps a shade wiser—with a straightforward rock album. The record marks a furtive but substantial progression in its sound. As with Purgatory/Paradise, Hersh and company take their established melodic and chordal stylings and warp them under novel conditions. But where on Purgatory/Paradise they experimented with a clean, efficient production and high concept; on Sun Racket they go deeper than ever into harsh and ambiguous shoegaze haze.
Murky bright layers of electrified strings set the scene. The rich, earthen tones of the awesome "Bywater" sail on Hersh's sublime lilting backing vocals. There are trilling disorienting verses about rock and roll swimming out to poison the ocean. An obscure, warm underworld sings back across the still water and slumbering piers.
Hersh turns to seafaring folk on "Maria Laguna," channeling chiming '60s bands like The Byrds. Searchingly, the song's narrator goes to a listless and distorted doom. Crunchy noise bursts signal a final breakdown of the forlorn drifter's journey. The dissonant passage sets up the scuzzy swagger and rhythmic apprehension of "Bo Diddley Bridge," a centerpiece of the sound achieved on Sun Racket.
People will undoubtedly compare Throwing Muses' sound to the Pixies, and not without reason. Having coalesced around the same Boston indie scene in the late '80s, the two bands also shared a record label for a time. The esoteric pop of Sun Racket extends its roots in dark myth-making, much like Pixies' later work.
The comparison, however, is superficial. Where Pixies once stunned with acute lightning, Throwing Muses hover viscerally like thunderclouds. Hersh and company invoke song-craft that is simultaneously more impacting and more impenetrable than other bands of their respective cultural moment. Unlike the plaintive Galaxie 500 or the fraternally goofy Big Dipper, Throwing Muses claim an enduring toughness. Derived from gristly guitars, a thick low end, mild psychedelia and impressionistic lyrics, Throwing Muses' toughness largely carries Sun Racket.
Female protagonists guide the course of the album. Three song titles—"Maria Laguna," "Kay Catherine" and "Sue's"—bolster a refreshing feminine agency that Hersh personifies. Not that the menfolk are denied their alms. "Upstairs Dan," possibly the darkest foray in the batch, offers Hersh's ragged and stoic compassion. Nevertheless, it's the gratitude and redemption of "Sue's" that humanizes the effort—bringing the affair to rest above ground.
The intentionally sludgy production works well for most of the album, creating a filter of obscurity. At 10 songs and 34 minutes, the album is relatively brief. Nevertheless, by the time the droning "Frosting" hits, Hersh's consistently clangy guitar tone begins to wear. Most of the songs exist in a phased slow- to mid-tempo range. This choice establishes a consistent and distinct tone for the album as a whole. But strong hooks are hard to find, as the melodies don't exactly jump out of the mix.
This might be more of a stumbling block if the songs were overly pessimistic and the production darker. Wisely, however, the band jams down in the toasty grooves that have guided its better work over the years. One can almost picture the trio performing in the large parlor of an old flat—such is the acoustic proximity. In any event, the result is a heartening and digestible LP that tracks gentle undulations on the surface of vast chaos.
Sun Racket shows a woman in her prime continuing on a brave path, leading a cohesive and full-bodied rhythm section in rock's immortal project.
Follow writer Alexander Baechle at Instagram.com/writheinsmoke.