REVIEW: UB40 mines roots, partnerships on 'Bigga Baggariddim'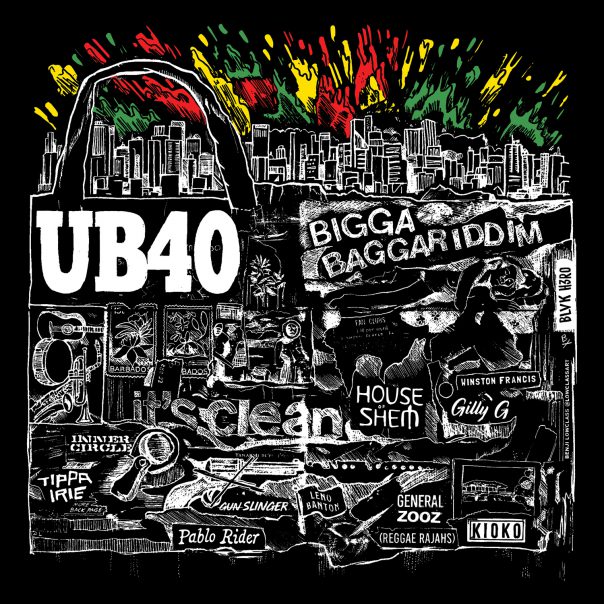 When a band gets to the level of entrenchment that England's UB40 has achieved, it can make the album it wants. Referenced by jam-champions Phish and still a serviceable dad-joke punchline, UB40 has now logged more than 40 years as a band. Helped along by big hits in the 1980s and '90s, it keeps the reggae fires burnin' with Bigga Baggariddim, its 21st album.
Bigga Baggariddim
UB40
SoNo Recording Group, June 25
6/10
The album's title references the band's 1985 record on which it reworked its earlier songs with the aid of high-profile guest musicians. Bigga Baggariddim follows this format in that each song features rappers, MCs or full reggae bands in collaboration with UB40. Songs appear in multiple versions so that the 11 featured artists can provide their own spin.
Now, you may be asking: "Which version of UB40 are we talking about?" To clarify, this UB40 is the legally ordained entity that has retained the right to use the name. In 2008, long-time band members Ali Campbell and Micky Virtue left the band, followed by vocalist Astro in 2013. The three joined forces for their own UB40 act, soon changing their name to UB40 Reunited.
"Bigga Baggariddim" quickly establishes itself as a roots-oriented album. The first three tracks comprise an 11-minute suite around a familiar reggae chord progression. The band promises reggae touchstones like "good vibes" and a "gravy train" are en route. The three songs essentially represent three interpretations by way of three different collaborations. The subtle tweaks from song to song support a relaxed, sustained groove.
"Did You See That" gets a little skankier, thanks to Pablo Rider's rasp and a hypnotic dub sway. About as dirty as the well-behaved UB40 gets, the song benefits greatly from Rider's authentic, grimy flow. The lean arrangement also scores, transporting listeners to the smoky dub dens of the likes of Linval Thompson.
Heavily vocal-oriented, UB40 at times approaches boy-band embellishment. "Rebel Love" and the trio of songs beginning with "You Don't Call Anymore" get a little carried away with feeling and sweetness. The latter benefits from a strong skeletal rhythm section, however, with bass and horns holding down the jam. The rag-and-bone shuffle is continued on "Me Nah Leave Yet" and "Love You Now," for the respective benefit of guest MC Gilly G and New Zealand reggae band House Of Shem. Nevertheless, the three versions mostly tread over the same territory.
Apparent simplicity belies subtle and specific musical choices. There are essentially only eight movements, four of which appear in multiple versions. Though this provides a platform for the guests to explore different directions, hearing the same song three times in a row does become tiresome. And at 55 minutes, Bigga Baggariddim asks a significant time investment to pull out what amounts to negligible variations.
Furthermore, the collaborations don't bring much innovation to the table. Though fine performances can be singled out, the compositions are rather staid and unremarkable. The best moments come from the fiery toasts of Leno Banton and Blvk H3ro, young artists forging reggae's future from the materials of its history. It's to UB40's credit that the band highlights these artists.
Thanks to these young talents, there are a few late-album highlights. Blvk H3ro (pronounced "Black Hero") shines on "I'm Alright," a faithful reconstruction of the sounds heard on the legendary "King Kong" compilation. UB40 provides a solid, classic ska jam and together it conjures the soul-reggae of The Melodians and Delroy Wilson. Banton spits some well-done rhymes on "Show And Prove," a Latin-spiced, modern-sounding cut and one of the more adventurous offerings here.
Fans of the band will have no complaints, and no one's questioning UB40's professionalism. From production to musical detail, the record stays clean and organic. Standard issue island jams make fine chill soundtracks. Bigga Baggariddim is a competent work and an easy listen with some choice performances by featured up-and-coming artists.