ALBUM REVIEW: Vanessa Carlton explores relational complexities on 'Love is an Art"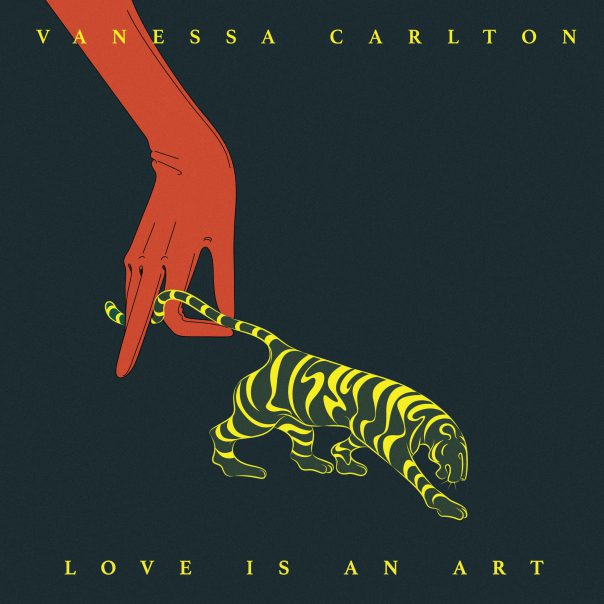 Vanessa Carlton returns with her first new album in five years with the expansive Love is an Art, a deep dive into the different ways relationships manifest and how we experience them. Carlton writes about both her own experiences as well as observations of love in the world around her. Inspired by the 1956 book "The Art of Loving," by philosopher Erich Fromm, Carlton extends the concept out to the context of music.
Love is an Art
Vanessa Carlton
Dine Alone Records, March 27
Carlton tapped producer Dave Fridmann (MGMT, The Flaming Lips) to produce the album, and together the duo combine for tremendous results. The album has a dark vibrant complexity that spans from quiet and moody balladry to lush rock rhythms. If for some reason you haven't checked in on Carlton since her debut smash, "A Thousand Miles," there's a lot to dig into on Love is an Art. Carlton has matured as an artist lyrically, vocally and as an arranger. Her piano playing rounds out the sound and brings the entire thing home.
The album opens with the percussive rhythms of "I Can't Stay the Same," featuring Carlton's dark and haunting vocals. The percussion carries much of the instrumentation of the track until it opens up to an airy layered synth for the final chorus. "Companion Star" takes an opposite tact, dropping out just about all of the percussion with just a sparse synth driving the track about eternal love. "Northern star/ When I wander far/ Pull me back to love/ You will be the bridge between," she sings along to a quiet and spacious melody.
"I Know You Don't Mean It" dials back on some of the experimentation for a more tradition piano-driven track. Vanessa Carlton's piano chops shine as the song opens up into a lush piano and orchestral string-laden final chorus. The album's dynamics are particularly impressive. Even though Carlton doesn't stick to one particular sound, the songs flow in a natural way. She takes a political turn on "Die, Dinosaur," written in response to the aftermath of the Parkland, Florida shooting. "His power slips away/ Natural change/ Young courage never fades/ Keeps thinking of brand new ways," Carlton sings, contrasting the politics and human element of love through tragedy.
Carlton's piano playing is again just as expressive in conveying emotion on the ethereal title track, which consists primarily of just her and her instrument, with some slight synth flourishes. "Future Pain" opens as a mid-tempo ballad that closes by expanding into a full rock song-scape. Carlton lives in Nashville now, and some of the city's Americana influences seep through.
The dark and moody "Back To Life" takes on some more experimental vocal stylings and melody. While simplistic in scope, it still feels like it has a complexity to its arrangement. "Patience" serves more as a spacey and tripped-out interlude leading into "The Only Way to Love," one of the most rock-influenced moments on the album—with a pulsing beat and fuzzy guitar riffs.
Unrequited love is represented in the form of "Salesman," a haunting and emotionally hard-driving track about a cheating partner. "Handsome salesman/ Sold you heaven/ Now you wait until it falls/ Until then you'll surrender it all," Carlton sings as the melody hops between soft to loud and back again.
Carlton brings the record home with "Miner's Canary," about reckoning with toxic relationships. Love is an Art mixes tried and true methods, but Vanessa Carlton isn't afraid to experiment in more unfamiliar territory.
Follow writer Mike DeWald at Twitter.com/mike_dewald.