ALBUM REVIEW: AJR balances familiar and fresh on 'Neotheater'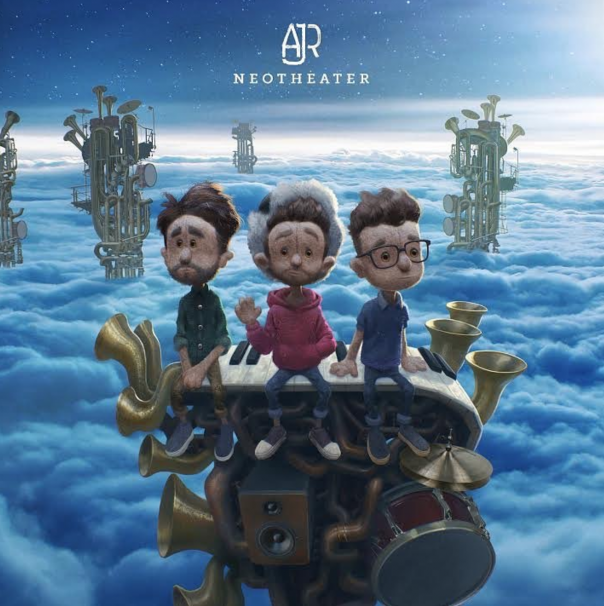 After more than a year of touring and a deluxe release of their widely successful 2017 album, The Click, AJR is back with Neotheater, a clear sign of artist maturation. It displays the hard work brothers Adam, Jack and Ryan Met put in to bring audiences a developed sound while maintaining the lively horns, heavy beats and chanted choruses that listeners have come to expect from the effervescent trio.
Neotheater
AJR
AJR Productions, April 26
AJR wastes no time displaying Neotheater's new direction with bombastic opener "Next Up Forever." It begins with sampled choir music accompanied by building electroacoustic instrumentals. One thing's clear right off the bat: they had no intention of attempting to recreate what made albums like The Click. The album certainly clicks, albeit in unexpected ways. 
The most noticeable element from this offering is the expansive choral-style vocals backing personal songs about the members' respective experiences and development. The cut "100 Bad Days" introduces the audience to stories of woe while leaving room to see the importance of those failures as lessons. Coincidentally, the choir seems to act as the antithesis to the band's pessimistic delivery as a reminder to look at the bright side.
The band also never lets go of its inner child, balancing youthfulness with an evolving perspective on life. Somber but beautifully composed, "Don't Throw Out My Legos" is a direct ode to childhood innocence. The title of the song comes from the line "Don't throw out my Legos/ What if I come back home?/ What if I can't let go?"
The song is built on a pleasantly simplistic chord progressions reminiscent of Mr. Roger's Neighborhood. "Turning Out Part Two" provides the only obvious link to the band's prior material, centering on the healing process after a difficult breakup. Built on largely minor chords, violins and a slower tempo, the song mulls over hard lessons: You can only love someone as much as you love yourself, and saying "I love you" is not enough to save a relationship. Deeds are more important than words. 
The three brothers don't forget their roots and use their horn section to build a number of rousing singalongs. The tongue-in-cheek "Birthday Party," a satirical callout of pop culture, exhibits some of the densest instrumentation on the album. The Mets fall back on their trusty trumpets and propelled beats to carry adventurous melodies during the bridge.
"Wow, I'm Not Crazy" is the catchiest, most danceable party track on the album, starting with uptempo acoustic strumming and a chorus of harmonious voices. It's akin to a campfire song dedicated to the people who make life bearable. Its instrumentals give it the perfect vibe for a lively get-together.
With a new inspirations and stories paired with their familiar counterparts, AJR has made it clear that the band is maturing as artists. Not only is Neotheater something for fans to enjoy, but its resolve to keep trying new things make it an indispensable album.
Follow writer Piper Westrom at Twitter.com/plwestrom.