ALBUM REVIEW: Alice Cooper revisits his hard rock impetus on 'Detroit Stories'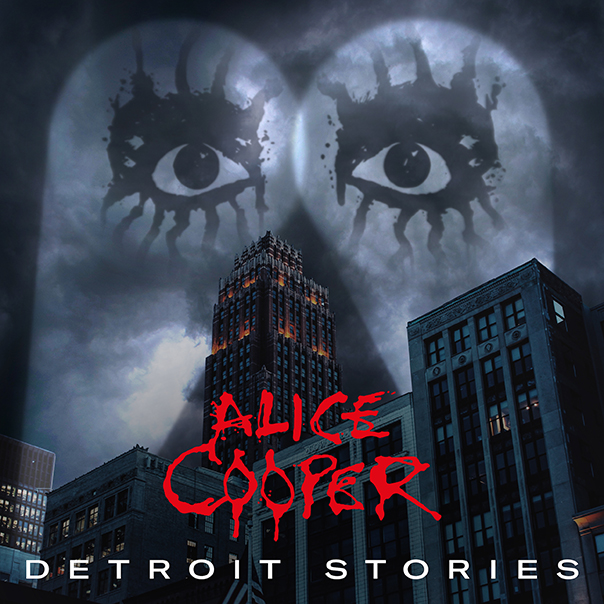 It could be said that rock legend Alice Cooper is a hard man to pin down. Is he a decadent, glammed-out creep or an affable guy who helps his friends? An edgy punk provocateur, or a religious conservative? A man named Alice? Even deciding where he's from can get dicey. Whereas most bands can claim a city of origin, Cooper's band relocated not once, but three times in its first five years, becoming more prominent with each move.
Detroit Stories
Alice Cooper
earMUSIC, Feb. 26
7/10
On Detroit Stories, Cooper revisits the lore of the city where his band morphed into a snarling hard rock hit machine. In the early 1970s, Alice Cooper relocated with the band to the Motor City to participate in its anarchic and dangerous rock scene. It was in Detroit that the group teamed up with Bob Ezrin to produce the classic albums Love It To Death and Killer, unleashing their shock-rock on the hordes of shiftless teenagers. Fittingly, Ezrin reprises his role as sound engineer on Detroit Stories.
Remarkably, Alice Cooper has assembled an authentic rabble of gritty Detroit alumni. Wayne Kramer of MC5 fame brings raw, driving proto-punk guitar. Journeyman bassist Paul Randolph is not lost in the mix. Johnny Badanjek from 1960s band The Detroit Wheels holds down a robust back-beat on the drums.
Kramer's muscular, straightforward guitar work is a double-edged sword. In the context of Detroit Stories, the unpretentious riffs work as an homage to classic hard rock and the early Alice Cooper records. His fantastic guitar tone roars along like a Detroit motor, shifting into high gear for more than a few arresting solos. On the other hand, the dad-rock approach does its job a little too well at times. Obvious chordal riffs and half-silly lyrics from Cooper at times sound like the classic rock radio station right before you change the channel.
The majority of the songs bring toughness, however. That's a quality sorely lacking in modern rock bands. Kramer deserves a lot of credit for his instinctive playing. He faithfully reconstructs the early Cooper vibe. The frontman, meanwhile, brings sweaty attitude and defiant optimism on song after song. Varying styles hide out among the standard rock fare, but nary a misty-eyed ballad dares tread on Detroit Stories. The band sticks to its wheelhouse with hard-stomping rock songs like "Hail Mary" and "Social Debris."
Alice Cooper shows why he is legendary not just as a performer but as a full-fledged apostle of rock. On the staggering bar-blues "Drunk & In Love" he introduces himself with the line "I saw you baby and I pissed my pants/ Now I'm shakin' while I try to stand." Cooper always indulged in the courage to inhabit the characters of society's undesirables, and it is reassuring that he hasn't given up that stance. He goes on to explore the healing properties of infatuation from the perspective of a homeless drunk, reminding us that love is real no matter where you find it.
Viewed in this light, it's fitting that a cover of Lou Reed's "Rock n' Roll" opens the record. Given Reed's interest in the underbelly of civilization, Cooper's aesthetic marks a natural parallel. Though Reed was a New Yorker through and through, his gritty urban take translates well to Cooper's Detroit. Cooper snarls the tale of a youngster whose "life is saved by rock n' roll." An infectious guitar riff anchors this washed and waxed version of the Reed standard, and Kramer tops it off with a towering solo.
Street-walking swag reappears on the swinging "$1000 High-Heel Shoes." The song features a convincingly hot horn section and some surprisingly endearing "shooby-doo-wahs." The song is a great example of Ezrin's magic touch. The whole record sounds full and live, like it was recorded in the Grande Ballroom during dress rehearsal. Never does it sound too produced, shiny or schmaltzy.
In particular, "$1000 High-Heel Shoes" is one of the few departures from the mode of crunchy, big-boned rock that dominates Detroit Stories. This more-or-less creates a satisfying listening experience for hard rock enthusiasts. Nearly every song is enjoyable, if unexceptional. "Hail Mary" rolls with stage-roving energy, while "Go Man Go" puts the pedal to the floor for a high-octane shot of adrenaline. The riffs are pretty straightforward, the hooks charmingly simple. "Sister Anne" cements the cool factor for an artist well-versed in the subject.
But at 50 minutes across 15 songs, the record is a bit long on tracks for its shortage of immediate standouts. Still, nuances emerge upon repeated listening, and the result is a solid, utilitarian collection of hard rock. Throughout the record, Alice Cooper retains his senses of both fun and purpose. There's a defiant innocence to songs like "I Hate You," where the band members trade playground jabs like a pack of bratty kids. Combining that youthful spirit with decades of rock expertise, the group recreates the wayward ethos of a gaggle of greasy-haired teenagers, bursting forth upon Detroit's golden age of rock and roll.