ALBUM REVIEW: Bill Frisell writes a love letter to his trio with 'Valentine'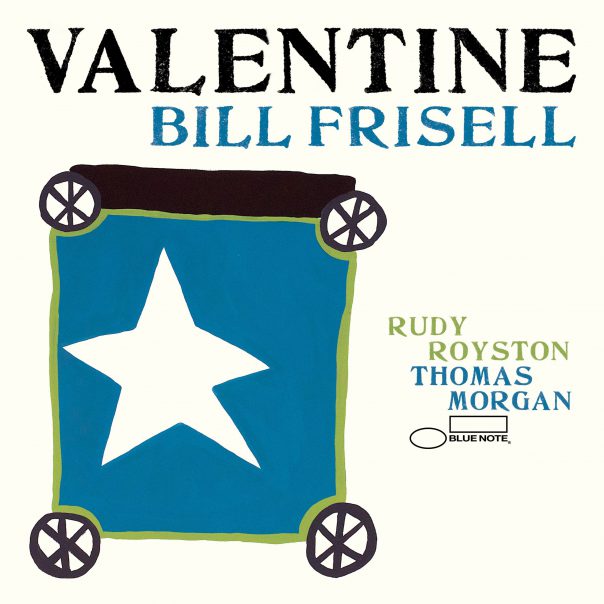 For a guitarist as respected and prolific as Bill Frisell, keeping things interesting and fresh still becomes a bit of a challenge. He does have the element of surprise on his side, as his balance of avant-garde ventures and timeless melody has taken him all over the map. This time around, he immortalizes his musical relationship with bassist Thomas Morgan and drummer Rudy Royston. A trio album seems an inevitable outcome, considering how many live shows these three have played together. Valentine honors the jazz trio tradition with covers and original tunes alike.
Valentine
Bill Frisell
Blue Note, Aug. 14
8/10
Kicking things off with Boubacar Traore's "Baba Drame," the trio shows its knack for personalized reinterpretations. Royston contrasts a steady backbeat with evolving flourishes, as Morgan and Frisell balance harmonic cohesion and their respective ideas. This is more pronounced on their take on the 1930s tune "Wagon Wheels," originally written by Billy Hill and Peter DeRose. Frisell maintains the timeless melody within a hushed, minimalist setting. As the song develops a dainty cool jazz swing rhythm, Morgan wisely avoids a straight-ahead walking bass line. He remains attentive to Frisell's guitar lines, knowing when to lay down the tempo and when to let Royston's ride cymbal take the lead.
These covers also spotlight the delicate chemistry of a guitar-bass-drum trio. Because Bill Frisell can't accompany himself like a pianist, he often takes a role similar to Sonny Rollins in his trio material. This lends cuts like Billy Strayhorn's "A Flower is a Lovesome Thing" and "What the World Needs Now is Love" by Burt Bacharach and Hal David to an unorthodox arrangement. Listeners will need to fill in the blanks a bit as far as chord voicing is concerned—especially considering the vocal jazz roots of "Flower." Still, the former's hushed brush-on-snare balladry and the latter's protracted, impressionist intro eventually reveal the recognizable leads. 
"Hour Glass" does away with meter entirely, showcasing tight musicality as rousing leads ebb and flow within swelling, non-rhythmic progression. Even more interesting is how the trio seemingly pulls demure swagger out of thin air from the amorphous intro of "Levees." The band members can take chances and let ideas flow organically, evidencing the trust they have in one another. It also shows Frisell's willingness to take a backseat and let his bandmates shine, relying heavily on the dedicated intuition on the part of his partners. Even during the dainty melodic structure of "Keep Your Eyes Open," all three musicians never seem to play the same lick twice. Just when it feels like they're locking in, they'll throw a tasteful wrench in the works.
This album requires patience and active listening. The title track's cooking mid-tempo swing is a worthy reward for those willing to contend with its dissonant refrain, complete with a compelling bass and drum solo. The song also ends in pleasant resolve after a recurring theme of discord, a fine line Frisell and company walk gracefully. Take the forlorn mosey of "Winter Always Turns to Spring," which embodies the implied hope in its title, as the band reconvenes after multiple verses of uncertain wondering.
The echoes of Americana in "Electricity" have a similar magic in how they retain an endearing familiarity, as each musician pushes and pulls in every which way. Same goes for "Aunt Mary," which somehow balances a downtempo bounce with what's essentially a jazz combo take on post-rock. Perhaps the most important factor in keeping the trio's various tangents is the fact the members don't sound like they're trying to outplay each other. The delivery feels very in-the-moment without resorting to overindulgence, an aspect that gives more straightforward cuts taste to match their tact.
It's commendable to hear such accomplished players hunker down for a homey acoustic guitar-based track like "Where Do We Go." It builds a bridge between feel-good folk and the celestial improvisation that preceded it. The three-count beat becomes a good setup for the closing interpretation of the defining civil rights anthem. The band honors the historical and cultural weight behind "We Shall Overcome" by letting the melody ring out in resolute beauty. The soft-spoken delivery offers a unique perspective on what the song represents. Even without the words, Frisell, Morgan and Royston land Valentine in humble strength and unity.
With a good balance of accessible refrains and challenging improvisation, it's hard to deny the enduring quality of Bill Frisell's work. Valentine comes as not only a refreshing take on the jazz trio, but a touching love letter to Frisell's most recent season as a live performer.
Follow Max Heilman at Twitter.com/madmaxx1995 and Instagram.com/maxlikessound.