ALBUM REVIEW: CNCO does it again on 'Déja Vu'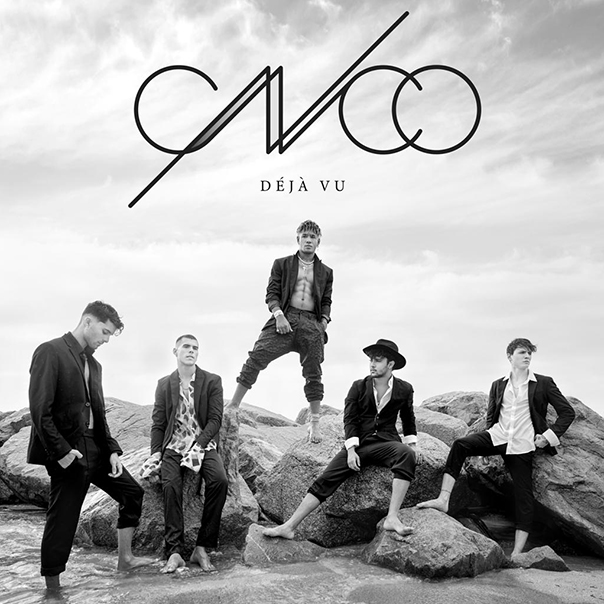 It wasn't fate that brought CNCO together. It was Simon Cowell. All five members—the name is a play on "cinco," for the uninitiated—were winners of the first season of La Banda, a Spanish-language competition show that sought to create the perfect Latin boy band. And after almost six years making music together in Miami, collecting dozens of international awards and touring the world several times over, CNCO may be closer to perfection than ever with Déja Vu.
Déja Vu
CNCO
Sony Music, Feb. 5
8/10
The group's fourth studio album is more than an amalgamation of entertaining yet empty pop songs. Déja Vu is a "reimagining" of classic Latin songs picked by each member. But listeners are regaled with more than just an album of covers. The record is a contemplative, yet convivial call to the past; an extended shoutout to the members' personal histories and cultures. Even the videos pay homage to the past. "Tan Enamorados," for instance, is close to a carbon copy of New Kids On The Block's "(You've Got It) The Right Stuff."
Everything from Chichi Peralta's "Amor Narcótico" to Sin Bandera's "Entre en Mi Vida" is fair game on Déja Vu. The quintessential Latin musical reservoir from which CNCO draws influence provides a variety of different sounds, all tied together by the common theme of the band's collective heritage. With members representing Cuba, Dominican Republic, Puerto Rico, Mexico and Ecuador, CNCO represents a proverbial United Nations of Latin pop. Fans of musicians from Cristian Castro to Franco De Vita and '90s Puerto Rican Reggaeton rapper Big Boy will find something to enjoy.
The flow of the album is a waxing and waning of upbeat songs for hip-shaking, mellow songs for hip-grinding and romantic, maudlin songs for hips pining for another pair of hips to love tenderly for all eternity. For the most part, the ballads covered on this album were originally about true love and heart-pounding attraction. But that doesn't mean CNCO doesn't take artistic liberties, contorting once-splashy, melodramatic refrains into bouncy, playful combinations of current pop samples and filters, brushed with a shellac of glitzy '90s flare.
The production is spotless and shiny. Though mostly electronic, the arrangements are entertainingly glamorous and well-thought out. Synths weave in and out at just the right times, the guitars playing grows from soft to loud to complement the denouements and crescendos of the original, more symphonic source material. The interminably fashionable Reggaeton/Latin beats floating around about three-quarters of the tracks may seem slightly redundant, but its usage during the chorus of certain songs, or softly during the bridges, instead uses it as a relevant and tasteful theme. However, the melodies in each song are catchy enough for anyone to enjoy, the voices are dreamy, and the accompaniment is generally flawlessly constructed, almost to an unsettling degree.
One of the few issues CNCO faces on this album is, unfortunately, the cross most boy band of this century must bear: AutoTune. This production aid is usually implemented to mask a limited range, flatness or sharpness of the vocal. The members of CNCO need no such help. That much is clear from the group's live performances, even impromptu ones. Their voices are attuned to harmony and complementary melodies. Why voices worth swooning over would be so heavily dampened is a complete mystery.
The most entertaining reinventions include Aventura's "Un Beso," whose original soft, seductive tenor is perfectly in the wheelhouse of the soft, seductive CNCO. They raise the stakes, elevating the gentle echoes of a Spanish guitar and single voice to a Backstreet-Boys-like groovy jam. "El Amor de Mi Vida," made famous by Ricky Martin, is another sensationally movement-provoking track transformed from a slow, cheesy '80s ballad to a contemporary yet nostalgic bop.
For the English-language listeners, CNCO plugs in a sweet, modern cover of Enrique Iglesias' "Hero," with a fascinatingly toned-down accompaniment, a Spanish guitar at the center of the minimalistic composition. Once again, however, the echoing, metallic filters on CNCO's voices mute some of their natural equilibrium. This becomes a metaphor for the album: sparkling, passionate and deliciously gift-wrapped in fine-tuned production that very slightly gets in its own way.
Follow writer Sara London at Facebook.com/slondogbusiness and Twitter.com/sjessielondon.