ALBUM REVIEW: Megan Thee Stallion comes bearing 'Good News'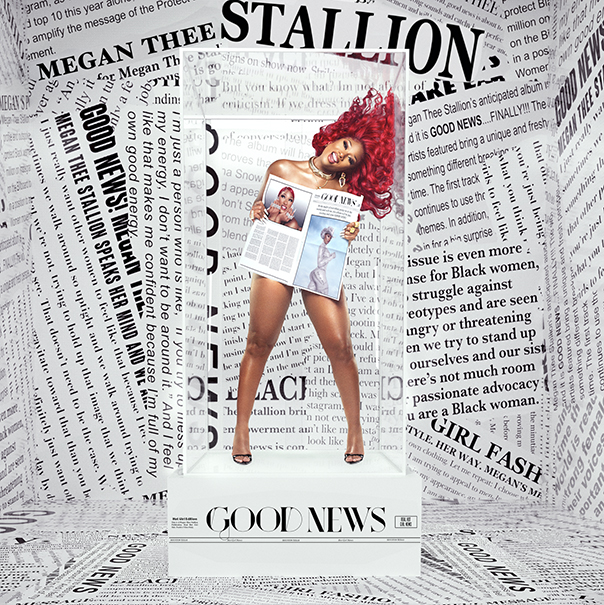 Megan Thee Stallion comes bearing Good News amid her chaotic year. Between legal issues with her record label, being shot and dropping the monumentally viral "WAP" with Cardi B, she seems to be burning the candle at both ends. Her artistic vision with this album was to emphasize the importance of finding a silver lining. That isn't to say she (or we) should disregard negative feelings, but that what was gained through the experience was a tool to learn to overcome.
Good News
Megan Thee Stallion
1501 Certified, Nov. 20
7/10
The Texas rapper continues to embrace her sex-positive and feminist ideals throughout, unabashedly letting her freak flag fly and taking no flack from anyone trying to tell her otherwise. Megan Thee Stallion's self-determination combined with her talents as a lyricist command attention and respect and she flips traditionally chauvinistic tropes to her advantage. Good News is also a star-studded affair. Among the guest collaborators, even Beyoncé shows up.
Album opener "Shots Fired" samples The Notorious B.I.G.'s classic "Who Shot Ya?," as Megan Thee Stallion addresses the aforementioned shooting. She delivers some powerful blows deriding the character of the man who shot her (rapper Tory Lanez) and those who have taken his side. "I don't want you on the bench, believe you wouldn't've been invited/ And if it weren't for me, same week, you would have been indicted," she spits. The following "Circles" serves as the sort of thesis statement behind the album, as she raps about still finding her sense of self worth in spite of hardships.
Tracks like "Cry Baby," featuring Da Baby, "Sugar Baby," "Do It On The Tip" and "Movie" have Megan taking ownership of her sexuality, as she plays on the tropes of sexist attitudes toward women in hip-hop with a tongue-in-cheek reversal about the men she's got wrapped around her finger. The tracks feature a heavy, synth-bass-laden set of melodies that are bound to get plenty of club play. But the real kicker comes with "Freaky Girls," featuring SZA. Keeping in with the thematic focus of the previous tracks, the production takes on a smooth cross of G-Funk and R&B, with a fantastic vocal performance by SZA on the hook.
"Body" opens with the sound of an old-school film roll clicking alongside muffled moans. Thick synth bass lines takes over. Megan the Stallion delivers a body-positive verse that's both braggadocios and self-affirming. She maintains this boastful energy on "What's New," where she raps about her rise and her many fans. Megan proceeds to go into full-on beast-mode with "Go Crazy," featuring Big Sean and 2 Chainz. She rips into her detractors and adversaries, letting her rage out with a fiery verse that starkly juxtaposes the album's overall lighter demeanor.
"Don't Rock Me To Sleep" has her switching things up. This is a strictly an R&B track, where she sings about her desire to move past a breakup that she's beyond over. We then get the tender "Outside," where Megan explores the push and pull of an on again/off again fling with one of her exes. It's jarring when compared to the previous track. "Savage Remix," featuring Beyoncé, has the rapper revisiting "Savage," a previous hit, as she teams up with one of her biggest influences for another self-empowering track.
Megan Thee Stallion follows things up with "Girls in the Hood," another homage to a classic hip-hop track as she samples Eazy-E's "Boyz-n-da-Hood." Megan again subverts rap's misogynistic tropes as she commands respect and support from her men. She's shown herself to be a resilient and impactful figure to the culture this year, and with her triumphs over so much adversity, it's always good news to see her still making significant strides.
Follow editor Tim Hoffman at Twitter.com/hipsterp0tamus.