ALBUM REVIEW: My Dying Bride overcomes adversity with 'The Ghost of Orion'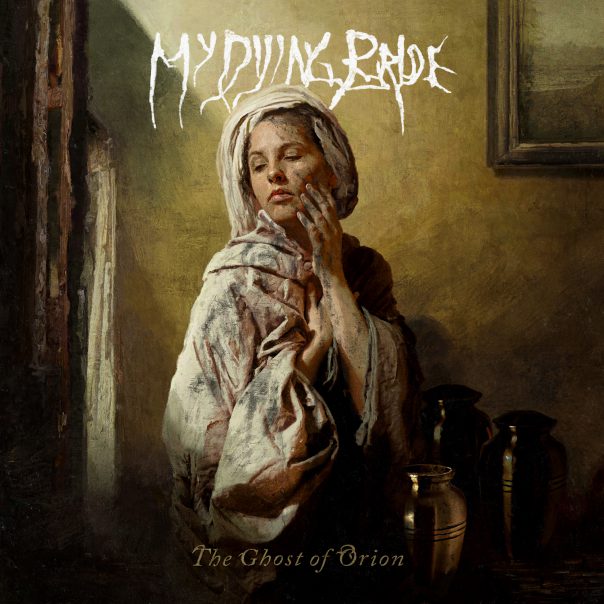 After helping pioneer death-doom and gothic metal alongside Anathema and Paradise Lost during the '90s, England's My Dying Bride has remained much more loyal to its seminal approach. The band's compelling consistency has guided its 30-year career of crushing melancholy. The journey almost ended over the past few years, due to personal tragedy and unforcene lineup changes.
The Ghost of Orion
My Dying Bride
Nuclear Blast Records, March 6
Against all odds, founding vocalist Aaron Stainthorpe and founding guitarist Andrew Craighan managed to regroup the band for a 14th slab of mournful riff mongering. Packed with brooding melodies and destructive heaviness, The Ghost of Orion triumphantly brings the quintessential My Dying Bride sound to Nuclear Blast Records.
Singles "Your Broken Shore" and "Tired of Tears" present My Dying Bride doing what it does best. Elongated, harmonized guitars, keyboards and strings, plodding yet accurate percussion, and evocative vocals strike gold right off the bat. The former cut opens the record with Stainthorpe's harsh growl commingling with his dirge-like baritone singing. His range provides augmented dynamics for the rumbling guitars and slow-burning beats.
The latter, while relatively catchy by My Dying Bride standards (no growls to be found), carries unimaginable weight. Written about Stainthorpe's fatherly despair while bearing witness to his daughter's struggle with cancer, the line "lay no hand on my daughter" hits like a ton of bricks. Beyond the glacial melodies or bludgeoning chugs, the band retains heaviness within hard-hitting narratives that make their mark on your soul through the nuanced development of simple ideas.
Lindy-Fay Hella of Wardruna provides her spellbinding voice on "The Solace," bringing the album's recurring Celtic vibe to the surface—like a gothic Amorphis. Without drum support, the harmonized guitar drones liken themselves to a church organ. Even the three-and-a-half-minute interlude "The Ghost of Orion" carries a lush ambiance, showing Craighan's songwriting chops. He wrote the bulk of these arrangements. 
For better or worse, this collection of songs does sound like it was conceptualized by one person. A track like "To Outlive the Gods" falls very much in line with "Your Broken Shore" in terms of structure. It stands out because of the way Craighan writes his leads and chord progressions. In spite of the album's relatively conventional production—it could have used more bass from Lena Abé, who was on maternity leave during the recording process—and the all-to-familiar waltz-like groove, the song remains immersed in a gripping tale of mortal despair. Of course, the real text of worthiness comes when deeper cuts break the nine-minute mark.
"The Long Black Land" brings My Dying Bride back to its roots in weary journeys through dusky forests. Its massive riffs and elegant cello lines effortlessly repeat, leaving room for harmonious crescendos and romantic baritone singing before throat-shredding snarls cut through titanic guitar licks. Though his drumming isn't anything out of the ordinary, the intuitive rhythms of last-minute replacement Jeff Singer (Paradise Lost) remain in tune with the dramatic dynamic shifts.
The guitar soundscapes and vocal possessions that begin the 10-and-a-half-minute monster "The Old Earth" blur the the line between goth rock and holy music, and the vibe carries over once the flattening riff hits. Harsh and clean vocals intermingle as Shaun MacGowan's heartrending string leads glide over crashing waves of lumbering rhythms and distorted guitar strains.
The band's 1991 classic Turn Loose The Swans comes to mind as the tempo picks up toward the end, bringing in double-bass drumming and pinch harmonics. The song settles back into a tapestry of morose harmonies and massive doom riffs, showing just how timeless this sound has become three decades after it was introduced.
"Your Woven Shore" lands the record in gothic bliss, as the choral-esque keyboards, strings and piano evoke lonesome semetaries and ruined castles. For all the unfortunate events it has endured in recent years, My dying bride remains as powerful as ever. Weighty, infectious and beautiful, the band remains an unwavering bastion of gorgeous aesthetic and deselate sadness.
Follow Max Heilman at Twitter.com/madmaxx1995 and Instagram.com/maxlikessound.