REVIEW: Taemin resurrects an idea of self on 'Never Gonna Dance Again: Act 2'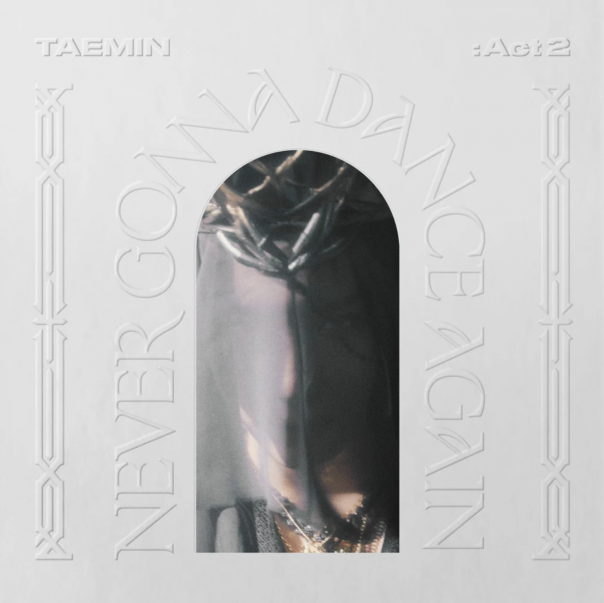 As the Ace of SM's experimental boy band, SHINee, Taemin solidifies his status as one of the top solo artists in K-pop today. Following the release of Act 1 of his third full album, Never Gonna Dance Again, the 27-year-old returns with Act 2. The record is a concept that builds upon Plato's Theory of Ideas as Taemin defines his new identity through his former self. Fans are introduced to five new tracks here while the remaining four songs were previously featured in his second solo concert in March 2019, part of his 'T1001101' concert series in Seoul, South Korea.
Never Gonna Dance Again: Act 2
Taemin
SM Entertainment, Nov. 9
8/10
Following in the musical footsteps of his icon Michael Jackson on the title track, "Idea," the Seoul native infuses a simple handclap over a chill R&B trap sound. This builds up into an explosion of a cinematic chorus that shows off a vocal of versatile artist who has grown exponentially as a singer over the years.
"Heaven" was already a fan-favorite from the concert series; now it's here. This song starts with his cherub-like vocals overlaid atop sweet Spanish guitar playing. The song continues to build in a triumphant notion and begins to climb as Taemin's powerful vocals push through the mix. The church choir adds a theatrical touch as it makes listeners feel as if they're transported through the gates of heaven to await judgment.
The creeping of a synthesizer on "Impressionable" gives the impression that Taemin is now up to no good. The trap beat of this song is reminiscent of Western modern pop and allows him to display another side as an artist; a pseudo-rapper able to hold his own.
"Be Your Enemy" is an uplifting tune that provides a break between the theatrical portion of Act 2. The airy, breathy vocals, accompanied by the fingerpicking of an acoustic guitar and the supporting vocals of Wendy—the main vocalist of sister girl group Red Velvet—provides relief and renewal. The tapping of the drumsticks on the uplifting "Think of You" adds simplicity to the song and follows the trend of providing relief.
"Exclusive," which was previously released as part of Japanese EP Famous, floats in with ghostly fleeting keys that are quickly drowned out by a hard synth that stays strong throughout the chorus and the remainder of the song. The juxtaposition between these two feelings gives the song a Jekyll-and-Hyde-like feeling that plays with the light vocals.
"Pansy" opens as a slow ballad with more Latin guitar. Fans of SHINee can see how this evokes memories of "Honesty" from the group's fourth EP, Sherlock. It's written by Kim Jonghyun. "I Think It's Love" (also known as "Perhaps Love") is a ballad about trying to understand and define what love is. The vocal-heavy song is filled with a rising harmonious piano and soft electric guitar.
Marking the end of Act 2 is "Identity," which closes the album with a twinkling piano overlaid with Taemin's soft and sultry vocals. An orchestral arrangement heavy on rising strings represents transformation, like a phoenix rising from the ashes.
Never Gonna Dance Again: Act 2 has solidified that Taemin is an established artist who not only has the repertoire but the range to be seen as a head figure in K-pop; one who's defined his new identity as an artist.
Follow photographer Onome Uyovbievbo at Twitter.com/byonome and Instagram.com/by.onme.