The Aces hit blackjack with 'Volcanic Love'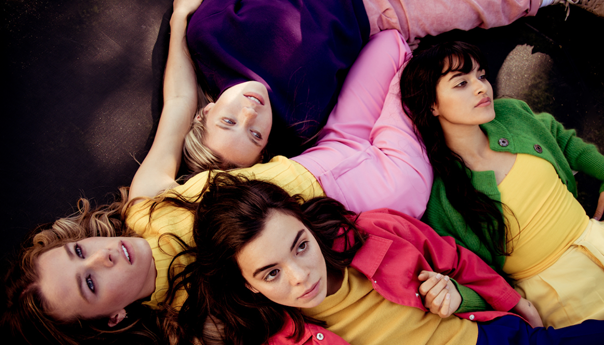 Provo, Utah's pop band The Aces titled their debut album after a line in an Edgar Allan Poe poem. But When My Heart Felt Volcanic was not a comment on Poe's morbid curiosity in 1847's Ulalume.
5 Seconds of Summer
The Aces
8 p.m., Wednesday, Oct. 3
San Jose Event Center
Tickets: $50+.
"We do love literature, but that was a quote that I [found] on Tumblr," singer-guitarist Cristal Ramirez said."I follow a lot of poetry accounts on Tumblr, and … a lot of literature quote accounts. As I was scrolling through, I read that one—'when my love felt volcanic'—and I just really loved that. I love the idea of your emotions feeling volcanic. It's simmering and so dramatic.
"That's how you can feel when you're young, and going through your first experiences of love and heartbreak, or friendships breaking off, or losing family members, or whatever it is," Ramirez said. "Alisa [Ramirez; Cristal's sister and The Aces' drummer] and I started trying to write a song about it, which turned into a song called, "Volcanic Love."
The hazy dream-pop song opens The Aces' new album, their first after 10 years together as a band. It proved to be a breakthrough moment, helping the Ramirez sisters, guitarist-vocalist Katie Henderson and bassist McKenna Petty discover the sound they wanted to pursue.
Cristal Ramirez, Henderson and Petty are just 22; Alisa Ramirez is 20. They started the band more than a decade ago. Back then—and until the past couple of years—they were more interested in enjoying each other's company than making music a career decision.
"We were really good friends from a young age," Cristal Ramirez said. "Music was also just something we were really passionate about. It felt like the most natural thing to be in a band with your friends."
To this day, the band they originally called The Blue Aces is the only one the four have ever played in. They were 8 and 10 years old when the sisters and Petty started. Henderson was the last addition, when the older girls were 13. All came up in musical families, singing and playing at church.
By high school, they were trying to balance education and jobs, with the band as a project for which they tried to make time. They played shows around town and at high school assemblies, but they didn't manage to go on their first tour until 2017.
"We realize, the more that we're doing this and touring around, how unique it is that we've only played with each other," Petty said.
After high school, they shortened their name to The Aces and began to change their sound from a more alt rock-influenced pop to a sound hewing closer to '80s R&B and funk, a la The 1975, Muna and Pale Waves. The band is also often compared to Haim, but for reasons The Aces believe are less than genuine.
"We do love Haim, but we sometimes just wonder if it's a lazy thing because we're all female," Henderson said.
Added Cristal Ramirez: "People just compare all girl bands to each other, as if girl bands are a genre of music—and it's not. We're very, very different people, and we all make very different music. I think that's what can be annoying."
"The '80s has been influencing artists for three decades, and it's bigger than any of the artists and bands that incorporate it into their own sound right now," Cristal Ramirez said.
"No one owns funk guitar; no one owns syncopated rhythms," Alisa Ramirez said.
Four years ago The Aces got the attention of their manager, who also was Lorde's first manager. They released their first single, "Stuck," in 2016. A few months later, they signed to Red Bull Records and the following year, released their first EP, I Don't Like Being Honest, in 2017.
Many of the songs on When My Heart Felt Volcanic, which was released in April, have been simmering for years. The Ramirez sisters first created the bones of each songs, with Henderson and Petty fleshing it out.
The Aces' Bay Area connections
Cristal Ramirez: We love the Bay Area.
Alisa Ramirez: My dad's from the Bay area.
McKenna Petty: My sister lives out here. She lives in Fairfield right now. She lived in San Ramon last year. I'll come out and stay with them for a while.
Cristal Ramirez: Actually, we road-tripped to here; 'Kenna and I, when we graduated high school. With another friend of ours, we road-tripped to Big Sur, and stayed in a beach house.
McKenna Petty: It was 2014, 2015. My family has a beach house in Capitola, which is close to Santa Cruz, so we stayed there. My family comes there every year.
Cristal Ramirez: It's a very healing place.
Alisa Ramirez: My dad is from Santa Rosa, so we're big Oakland Raiders fans. We came last year to a Raiders game. They played the Chiefs. They won on the last-minute play. It was probably my favorite experience ever. It was so awesome.
Besides "Volcanic Live," highlights include "Just Like That" and "Lovin' Is Bible." The latter song plays on themes of religion, instead placing faith in each other. The name stemmed from band slang; with "bible" standing in for "truth" or "fact."
The Aces didn't hit the road for their first tour until last year, opening for Upstate New York alt-pop and rock band Joywave. The headliners were among several mostly male, mostly rock bands that have invited the ladies on the road since then.
"We've been really lucky; I think that kind of narrative, as far as alternative bands being all male, is definitely shifting, and it feels really cool," Cristal Ramirez said.
Because of these breaks, The Aces have been getting stage time in front of rock-favoring, mostly male audiences.
"It was cool to be able to play for those kinds of crowds and see them actually like it, and be down with it," Alisa Ramirez said.
The industry, of course, is still largely male, but the band has been learning its ins and outs along the way. All four want to be integrally involved, rather than be a cog in the machine, Petty said. "If you're making your music and your art a business, you have to know about that," Henderson said.
Ever since going on the road that first time in 2017, The Aces have more or less lived out of suitcases
"We're … never in one place for more than, probably, four days," Alisa Ramirez said. All love their home state, but prior to recording their next album, the Ramirez sisters were planning to move to Los Angeles, to be closer to the center of the music world.
Petty and Henderson plan to stay in Utah, at least for the foreseeable future. The moves shouldn't affect their creative process, the younger Ramirez said, because at this point, the four only go home when not working. When it's time to write or record, they'll go elsewhere. The first album was recorded in New York.
The four has already started writing again, and were leaving all possibilities on the table. The first album focused on personal, yet relatable experiences. Their next songs may be similar, or explore something completely different.
"Honestly, I don't think we would shy away from writing about anything," Alisa Ramirez said. "I think a lot of global issues are pressing right now."
The band is also not at all nervous following up something that was a decade in the making on a much shorter lineup. To the younger Ramirez, listening to The Aces' first album brings confidence because she knows how much more talented the four band mates are at this point.
"Album two is just going to be a notch up, because we just have learned so much," Henderson added. "It's going to be so exciting to feel more comfortable and more creative."
Follow editor Roman Gokhman at Twitter.com/RomiTheWriter.