REVIEW: Passenger wallows in despair on 'Songs for the Drunk and Broken Hearted'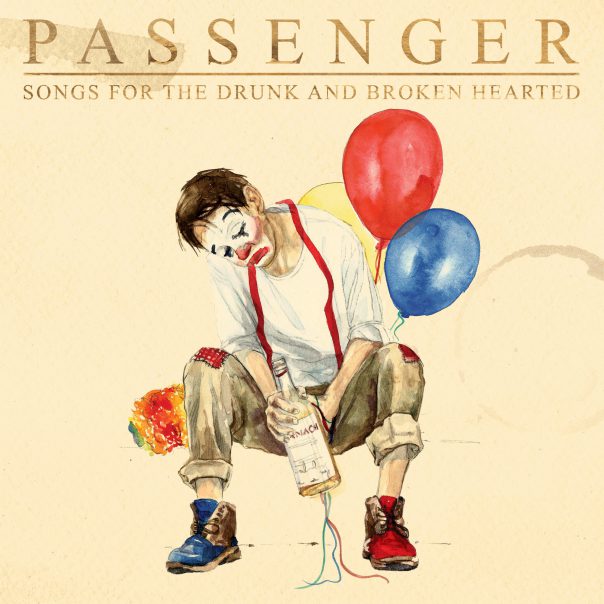 Folk-pop sensation Passenger (Michael David Rosenberg) follows up his 2020 quarantine baby, Patchwork, with a solemn examination of dissatisfaction on his latest release, Songs for the Drunk and Broken Hearted. As Passenger is best known for sleeper hit "Let Her Go," one might get the sense that the album is chock-full of wistful clichés laser-focused on lost and unrequited loves.
Songs for the Drunk and Broken Hearted
Passenger
Nettwerk, Jan. 8
7/10
The title itself invites the image of a black-out drunk divorcee struggling to sing the words of a sad song at a karaoke bar amid the slurry of slurring and sobs. Passenger uses sophisticated tact, however, evaluating the nuances in which people often find themselves encumbered with misery despite their well-off circumstances.
While he presents an interesting premise in examining the vapidness of wealth, success and attaining material desires—only to find oneself still longing for the abstraction of happiness informed from a sense of self-worth and purpose—he struggles to expand beyond the immediate emotional weight of the thematic substance, opting to wade in the emotional turmoil resulting from the stagnation brought on by such matters. This contrast is left woefully underexplored, which can make Songs for the Drunk and Broken Hearted come across as a bit stale as it goes on.
Several songs sew a sense of cognitive dissonance with more energetic and upbeat melodies, such as "Sword from the Stone," "Tip of My Tongue" and "Remember to Forget," which seems to pay homage to the classic Steve Miller Band tune "The Joker." The pairing of acoustic and electric guitar on these tracks plays into the kind of standard driving rock one would come to expect from groups of the late '70s and early '80s like The Police.
The more somber tracks, such as "The Way That I Love You," "Sandstorm" and "Suzanne," impart a deep sense of melancholy as they embrace a strict acoustic guitar ballad flourished with some backing piano chords and ambient tones or organs—bringing a quality reminiscent of Coldplay's early work like Parachutes.
"Sandstorm," in particular, shines, as it reaches the peak of the soul-crushing and agonizing turmoil. It follows a man in the fallout of his failed relationship, recognizing his character flaws and telling his lover to leave him. "Lover oh my lover/ I know I'm not easy to understand/ Cover darling take cover/ For I am the sandstorm/ And you are the sand," Passenger croons with a heavy heart. "Suzanne" similarly delivers on some of the heavier elements on the album, exploring the facade of celebrity, questioning a singer on who she is when the mask comes off after the show—is she really happy?
While Songs for the Drunk and Broken Hearted presents a contemplative quality to its exploration of the human condition, it meanders in misery in a way that feels counterproductive. Passenger questions the ascertainability of happiness, but all the album does is raise questions that most people are inclined to ask at some point in our lives regardless of whether they have heard this album. But it expresses what it is on its sleeve: a series of songs for wallowing in melancholy. Perhaps that's the point: to offer a place for people to go when they just want to feel what they're feeling and not necessarily need an answer or a direction to be steered toward.
Follow editor Tim Hoffman at Twitter.com/hipsterp0tamus.