ALBUM REVIEW: Zara Larsson shines on 'Poster Girl'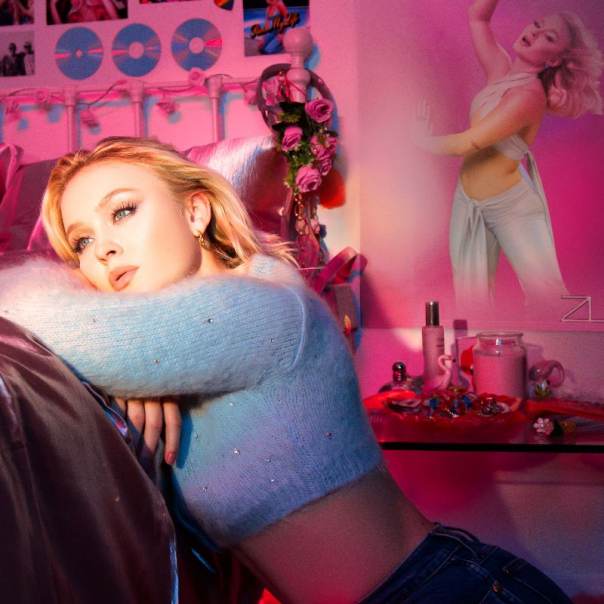 Few pop stars in recent years have teased an album for as long as Zara Larsson. But today, nearly two-and-a-half years after lead single "Ruin My Life," Poster Girl has arrived, and the wait was worth it. Following her 2017 international breakthrough with So Good, her third album is pure electronic pop, full of upbeat songs meant for dancing in crowds under arrays of colorful, pulsating lights. But for those in the United States, where concerts are still off for a while, we'll stick with bedrooms and parties with roommates for now.
Poster Girl
Zara Larsson
Epic, March 5
7/10
"Love Me Land," released last July, kicks off the album with a waning beat alongside Larsson's distorted vocals. The combination makes it seem like we've landed in Wonderland, where time and responsibility now come second to the music. The electric pulsing beat, interspersed with violins and her aching "eh-eh, ah-ahs" all combine to make for an outstanding entry to her world. "Touch me in the way that you do/ No matter who's in the room/ I see you sweatin' when you feel it, going full out, baby," she sings on the hook, the first of many lyrics oozing in sensuality.
Next comes "Talk About Love" with Young Thug, the album's sole feature. Despite a very catchy chorus and sexy music video, the collaboration feels contrived. His verse is forgettable; like it was simply edited in as a side thought to have a duet on the album. But fortunately, throughout the rest of Poster Girl, we see Larsson refining her style and forming a distinct image for herself as a pop star.
The songs are all fast-paced and upbeat. On "Right Here," she calls out the lackluster men she's dealt with the last few years. "I could have two girls in the bed/ It wouldn't even get your attention," she sings. Then on "Need Someone," she paints a story of late-night drives: "Windows down/ Seats bent back all the way down." That's time invested in loving someone you should have moved on from but won't.
Through Poster Girl, she collaborates with several of pop music's premier songwriters and producers. "FFF" (sung as "Falling For a Fiend"), co-written with Justin Tranter and Julia Michaels is the best of their four collaborations on the album. Zara Larsson conjures the grooviness of Dua Lipa, singing, "Is there a spark for us?/ Or is it just purely platonic?/ Is this our story arc?/ 'Cause if it are, it'd be iconic."
Then there's the Marshmello-produced "WOW," on which the pinging beat builds, then drops for a repetitious, rapid-fire chorus. "Make your jaw drop/ Make you say, "Oh my God"/ And you never felt this type of emotion," she sings. And finally, there's "Stick with You," cowritten with Max Martin, might just be the song that pushes the album up the charts. The singular guitar, paired with the driving, electronic beat and creative hook catches like the dozens of hits Martin has written or produced in the last 20 years.
All that's really missing from Poster Girl is the inclusion of her perfect, summer jam, "All the Time." Despite being released with the other promotional singles and receiving a video, it was relegated to appear only on the Japanese deluxe version of the album. Though it's available to stream, including it for everyone would have helped define the album's cohesive, twinkling pop sound.
Larsson deserves the mega-stardom of her pop contemporaries. She has the presence and style to compete with others like Billie Eilish or Selena Gomez. Poster Girl proves just this. Track after track, the electronic beats and her excellently matched vocals show she's exactly who our next favorite pop girl should be.