Bob Moses: New electronic music fashioned by old school crews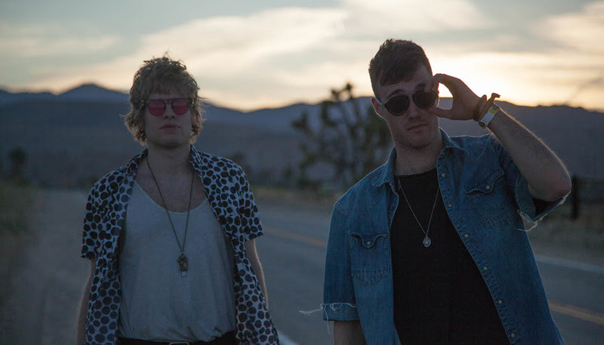 The success of Bob Moses' acclaimed debut album Days Gone By has made the Brooklyn-based Canadian electronica dance duo firm fixtures at festivals around the globe. It has also become part of a burgeoning movement of DJ acts as proficient at writing lyrics and singing as it is at producing beats and electro flourishes.
Much has been made about Jimmy Vallance's trance DJ roots and his Vancouver high school friend Tom Howie's singer-songwriter background. Those two intersect, lending Bob Moses its unique appeal of warm vocals and guitars set against colder strains of electronic bleeps and calculated BPMs.
Bob Moses, Sebastian Mullaert DJ set
8 p.m., Saturday
Fox Theater
Tickets: $29.50.
However, they also grew out of an underground New York warehouse scene with shows organized by the likes of ReSolute, parties at the Marcy Hotel and secret shows by Black Market Membership. The latter has a reputation for throwing hip techno warehouse parties in unique spaces that would sometimes get shut down by police.After-hours party invites would follow at dawn.
It was a scene that recognized their talents; welcomed and nurtured Bob Moses. "We were playing in the same venues as the Scissor & Thread crew," explained Vallance. "You know they were called a crew—it was funny—very much like they were old school, hip hop. So there were crews, a label, and you had a 'scene.' It was also a safety net, so to speak. That was all very inspiring to us."
It was Francis Harris, co-founder of the independent Scissor & Thread label, who named the duo Bob Moses after influential New York city planner Robert Moses. "We had been doing vocal tracks for our friends at the label, then one day Francis said, 'We want you to put out your own records,'" Vallance said. "A few days later, he called us back and said, 'You should use the name Bob Moses.' We couldn't think of anything better so Bob Moses it was."
"We knew from the get-go we wanted to do something that had cool production sounds but also that organic appeal of singing and playing guitars," Vallance said. "We didn't just want to be a rock band doing a techno record, or a techno act doing a rock record. We were listening to a lot of Massive Attack and then James Blake's first record came out."
When he was still in his teens, Vallance had signed with a New York management company to ghostwrite music for other artists. When he moved to Brooklyn several years later, the company hooked him up with Sia to worked on some of her music.
"This was the pre-EDM craze, in 2008," Vallance said. "Her music was far from what she's doing today. I did a remix for one of the tracks on Some People Have Real Problems and it did quite well. Pete Tong played it on BBC 1 and I was so excited. But I do remember thinking at that time, 'Why am I remixing this?' She seemed more like an indie artist. Now I can see it's more the direction that her music has since taken."
What Vallance could see back then was dance music attempting to redefine itself. So he took a trip to Berlin to immerse himself deeper into the dance music scene. "There was no scene in the U.S. for the more poppy stuff at that time," he said. "By the time Tom and I hooked up, I could see that the music I wanted to make hadn't quite been made yet. But I couldn't sing for shit. With Tom, I knew we could do it."
When a disillusioned Howie talked about heading back to Vancouver, Vallance convinced him to stay, move into his apartment and to keep on making music together. The move paid off. While the mainstream DJ circuit was still preoccupied with celebrities and 'dropping the bass,' Bob Moses and a few others like James Blake and Nicholas Jaar were making music that was measured, concerned with the empty spaces between the notes. It wasn't unlike how rap crews in the '80s were concerned with the break—the parts of a song with a breather from the vocal parts. Bob Moses naturally gravitated to them.
Days Gone By thrives with tracks like "Tearing Me Up" and "Talk," with their low-sub, sedative rhythms of deep house. Nothing is in the higher tempos. As a result, album opener "Like It Or Not" goes on for more than six minutes, giving new listeners a good introduction to the duo's minimalist and atmospheric aesthetic.
How do Vallance and Howie know when a track has enough breathing space, or if it is somnambulistic to the point of boredom?
"That's the stuff I lose sleep over," Vallance said. "On the album, 'Tearing Me Up' is a good example. It's the biggest dance track now but isn't that always the way? We finished it fast, everything just came together and it felt good. Then we listened to it again and it felt like nothing was happening. There was lots of space to notice the flaws."
They started to second-guess themselves and found that they couldn't get the track to sound big enough. Then it lacked a balance of empathy and warmth in vocals that had become the hallmark to the Bob Moses sound.
"By the time we took it in to be mixed it was a mess. When it came back, it was like night and day. Of course, if you heard it, you may have thought they might only be a 5-percent difference," Vallance said, laughing. "Sometimes you need to send your music elsewhere to be mixed, if only so you can fall in love with the sound of your own music again."
Follow Celine Teo-Blockey at Twitter.com/CelineT_Blockey.