REVIEW: Ariel Pink mesmerizes with divisive performance at the Chapel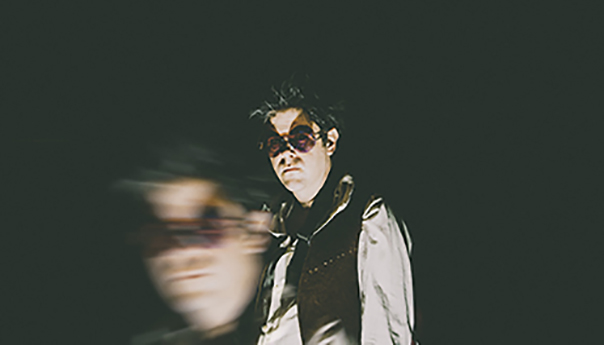 SAN FRANCISCO — Ariel Pink is the voice of a generation. Well, a voice, anyway—the voice of the second mouth that sprouted on the side of a generation's neck like a gill after it nodded off on a toxic beach; the voice of the subconscious. Ariel Pink is like Neil Diamond, if he was an Xennial who'd done a lot of LSD in high school.
His music sounds like the private, jumbled, dreams of a kid who grew up soaking in '70s and '80s pop culture so deeply it's embedded in the psyche. He has several personas: the horny loser who is proud of being a loser and actively trolls you, the nerd genius who spills out talent in a seemingly endless gush, the confident and passionate frontman. He's all those things at once.
And on Sunday, to some he appeared to play up another persona—that of abuser. Some audience members were offended that he appeared to be attacking his girlfriend, singer Charlotte Lindèn Ercoli, though she strongly denied it on social media.
Red lights low, Ariel Pink's set at the Chapel Sunday, one in a run of four nights in the city, kicked off with the itchy, witchy "Death Patrol,"  a freak-funk number off his new album that chugged along, setting the mood of awkward magic in motion. The weird spell was helped along by Pink's charismatic backup singer, a lanky androgynous person in Keith Richards mascara and a giant fur hat, whose lively energy was a complement to Pink's half-serious brooding throughout the show.
I've been a fan of Ariel Pink's music for almost a decade, first catching wind of The Doldrums and other early 4-track recordings, but had heard mixed things early on about the live act. This made sense: the early recordings, and some of the newer ones too, belong to the closely held aesthetic of bedroom recordings; intimate, quirky and creatively free.
But after the move to 4AD and the album Before Today, it seemed pretty clear a real band had formed around this deeply personal vision. Aside from some sonic hiccups, the band around Ariel Pink was phenomenal on Sunday, supporting with waves of synth and guitar in slick coordination that also lurched organically, as these distinctively off-kilter pop songs demand.
Most of the set consisted of material from the newest release, Dedicated to Bobby Jameson, with a strong rendition of the catchy-yet-lonely "Another Weekend." A rougher patch was hit with "Kitchen Witch," one of the prettiest tracks on the album, with a guest female vocalist evoking the dream pop of the Cocteau Twins. Live, the voices were hard to hear, and some garbled onstage theatrics had me wondering if everything was cool off-stage with the performers.
A few songs off recent albums got folded into the mix, including the '80s-noir "Lipstick," off 2014's Pom Pom. Waves of dark, beautiful synths and plaintive voices, croons weaved in with cries, created a wall of sound that lost a lot of the nuance and layers from the recordings, but were very effective in their own way.
The show wound up with a generous three-song encore started by the title track from the new album, the Doors-meets-Cobain jam; then on to the hit "Round and Round," from 2010's Before Today. It was a great song rendered with beautiful textures by the live band. I hadn't been able to pull myself away. I was going to miss the last train to the East Bay and I didn't even care.
John Maus opened the show with a perfect set. Maus' music has the same challenge Ariel Pink's does: it's hand-made electro-pop that sounds like it comes from a very personal aesthetic, so translating it to a live show and a full band is difficult. The nuances of atmosphere are impossible to totally reproduce. But it's a challenge that John Maus and company handled with passion and total dedication.
Note: After the publishing of this article comments and discussion on Reddit and Twitter made me aware I may have missed something in my initial write-up.
I was standing toward the back of the crowd, taking notes on my phone. What I saw during the performance looked to me like more of an awkwardness, lack of rapport and banter that honestly left me scratching my head, rather than something that I could identify as harassment.
While I can't go back and watch it again, what I can very easily do is say unequivocally that both I and RIFF Magazine believe sexual harassment and assault are completely unacceptable, and don't intend to excuse or condone it or turn a blind eye.
I'm reaching out to see if I can get a statement from the singer who people were expressing concern about.
Follow Justin Allen at Twitter.com/_justinallen_.