Ariel Pink's singer responds after allegations of assault on stage at SF show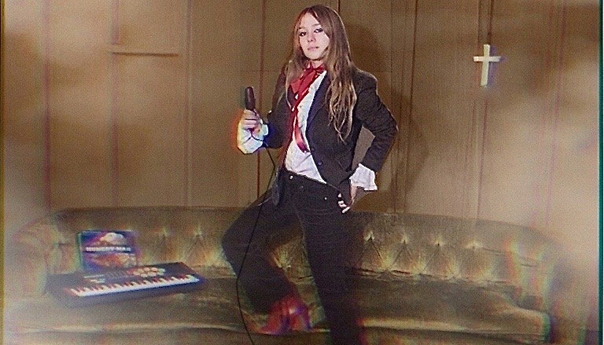 Some members of the audience at Ariel Pink's concert at the Chapel had a seething reaction to what they percieved as overbearing, harassing and abusive onstage behavior directed by Pink toward back-up singer Charlotte Lindén Ercoli, who is also Pink's partner. Ercoli was reportedly grabbed and pinned to the stage at times. A few people walked out of the concert, and later, a torrent of criticism was unleashed on a Reddit thread.
Ercoli eventually joined the conversation, replying that "we were just playing around and feeling rambunctious" and "maybe I looked uncomfortable because it's only my second time playing," among other claims that countered the narrative of unwanted attention or assault.
Monday, Ercoli, confirmed to RIFF by email that Pink did not assault her and that she was in on the act.
"If anyone has any questions they should just go to me," she told RIFF. "I predict they're going to say I have Stockholm syndrome or something typical like that."
Ercoli acknowledged the onstage antics could have caused confusion.
"I understand how it looks, when I think about it," Ercoli said. "I don't see myself as a girl and I forget that we might come off as strange to people who don't know us at all. We've been together for years and are just two weird Jewish guys who like to roast each other on stage. We're trying to be more careful of how we joke around up there because we really don't want to offend people. It's really such a bummer [that] … people wanna make it about abuse, though. If only they could see our relationship off stage. It's all good fun.
"Seriously, the only victim is Ariel in this."
Two audience members who attended the Sunday concert said whether the show was staged, they were still disappointed to see an act of apparent cruelty.
Ercoli performs and records her own music as Charles. She also directed the video for the Ariel Pink and Weyes Blood song "Tears on Fire."
Follow reporter Justin Allen at Twitter.com/_justinallen_ and justinallen.us.
Editor's Note: This article was updated to clarify that Ercoli told us in no uncertain terms that there was no assault.