ALBUM REVIEW: Pale Waves give pop-punk a makeover on 'Who Am I?'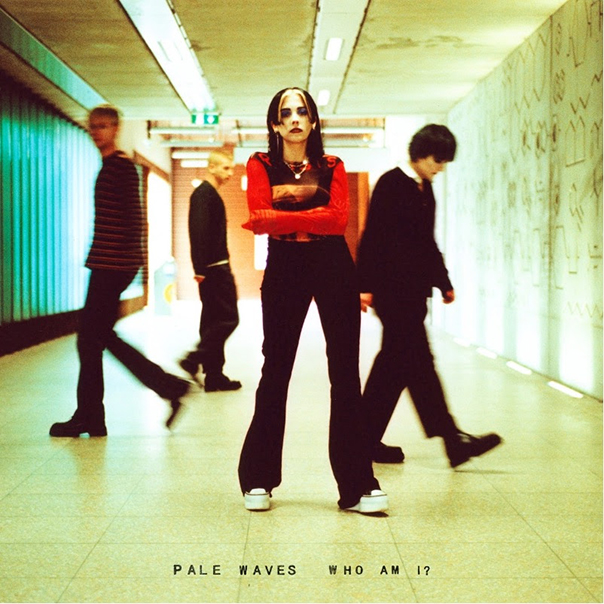 Despite its delayed launch, Pale Waves' sophomore album, Who Am I?  is not a record that was consumed by the pandemic—it was born in the face of it. The Manchester quartet stared down the barrel of death following the tour bus crash last year that could have claimed the lives of three out of four band members and their crew. And yet Pale Waves proceeded to hold their middle fingers up to the world, rising like a phoenix from under the ashes. That would be, if the phoenix were wrapped up in fishnet tights, black nail polish and sported a few questionable hair colors.
Who Am I?
Pale Waves
Dirty Hit, Feb.12
8/10
Pale Waves' distinctive look may not have changed much since the release of their 2018 debut album, My Mind Makes Noises, but by God their sound sure has. The new-wave The 1975-labelmates have turned in their slick '80s synth beats in exchange for an edgy pop-punk follow-up album, adding a dash of country-rock sweetness for good measure. Essentially, Pale Waves have taken the best parts of Alanis Morrissette, Hayley Williams and Taylor Swift's Speak Now era—cut them up and squashed them together like a Frankenstein musical reboot. It sounds strange, but somehow, it works.
Pale Waves give us a sunny emo-pop earworm with lead single "Change," highlighting the fact that the resurgence of easy-core is well and truly underway. The opener is reminiscent of Avril Lavigne's edgy "What the Hell," if not a little raunchier. With provocative lyrics like, "You act like I'm nobody/ But you still wanna go down on me," Pale Waves are giving the Canadian a run for her money, and maybe even taking her infamous self-proclaimed "motherf*cking princess" title.
Tracks like "Fall To Pieces," "I Just Needed You" and "Tomorrow" transport us to Pale Waves' late '90s to early 2000s sweet spot with their chugging electric guitars, near-screeching vocals and thumping drumbeats. It's reminiscent of a time where brightly colored clip-in hair extensions, wearing ties over T-shirts and idolizing Winona Ryder were nothing short of social norms. The band tapped into some of their very real truths on "Tomorrow" with lyrics like, "Ben, I know that you love a boy/ Sexuality isn't a choice," calling out to lead singer Heather Baron-Gracie coming out as gay earlier this year and drummer Ciara Doran now identifying as nonbinary.
Pale Waves cleverly blend glowing synths with a bright acoustic guitar and poppy melodies on neon pop-punk track "Easy." This is a song that could have easily been on their first album. Unfortunately, the band falls back into its angsty teenage-diary writing trap that dominated the debut album on "Run To" with painfully clichéd lyrics like, "Don't you see/ Small towns ain't for me?" and, "My friends are in the back and they're getting high." You'd have thought that they would have changed the narrative by now—or better yet—scrapped the diary altogether.
Who Am I? reaches its peak on "You Don't Own Me," a ridiculously over-exaggerated feminist anthem with glimmers of unadulterated, witty lyricism like, "I'd rather pull out my teeth than be who you want me to be." With a fuzzy bass guitar riff placing the song slap bang in the middle between No Doubt covering Talk Talk's "It's My Life" and "Violet" by Hole. If history has taught Pale Waves anything, it's that they're at their best when they tune into their unapologetically no-damns-given rock star approach.
Follow writer Gabriella Ferlita at Instagram.com/gabriellaferlita and Twitter.com/Gabriellaf_17.